F e r r a r i 512 Berlinetta Boxer
---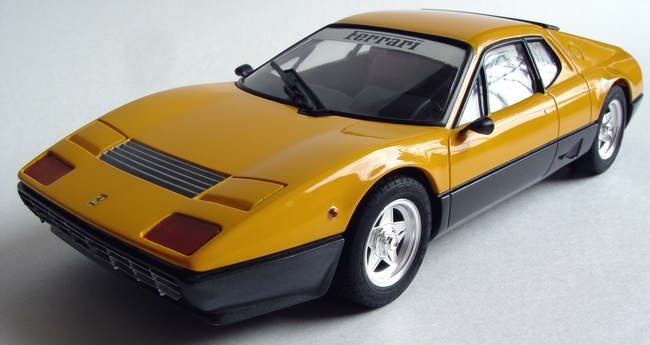 ---
Kit:

MPC Ferrari 512 Berlinetta Boxer

Pros:

Small number of parts simplifies assembly. Seems like in its past life it was a motorized kit, and extra space gives room for customizing. Correct body.

Cons:

Very thick glass, flash everywhere, sink marks and pinholes require a lot or sanding and puttying before assembly. Parts fit is awful, takes a lot of work to put it together. Decals are very old and basically useless (some weird graphics). Wheels and tires are a joke. Poor detail and engraving. Curbside.

Verdict:

This is a very simple model for a beginner modeler. The fact that it was made in 1979 speaks about the quality of the kit. Body shape is correct, everything else requires a lot of work to look at least a little bit close to the real car. If you want to add this car to your collection - get a Marui Tokyo kit.
Buildup
---
| | | | |
| --- | --- | --- | --- |
| | There is not much to say in a buildup of this kit. Body was cleaned, filled and sanded (a lot) to get a satisfying surface, then primed and sprayed with Tamiya Camel Yellow. | | This is the body after spraying some Tamiya gloss black on it. The body was masked from inside and outside to prevent black bleeding on yellow. |
| | Then the body was masked to produce a two tone Yellow/Black paint scheme. | | Since lower part of Boxers were made from fiberglass, I sprayed it slightly with Tamiya Metallic Black to give it the right look and texture. |
| | The interior was put together box stock, using some decals from other Ferrari kits (clocks) and was painted using Tamiya acrylics and Testors enamels. | | Another shot of the interior. Strips on the seats were hand painted with Tamiya acrylics. |
Modifications
---
It would be unfair to say that this kit was built box stock. I made a lot of modifications to it for the model to look correct. First of all I threw away those funny looking wheels and tires (made from unknown to me weird material) and substituted them with Fujimi rims and knockoffs from 365/4 Daytona kit. Tires were taken from Tamiya Mercedes Benz 500SL kit and are correct Dunlops. Headlights and turn signals were scratchbuilt from clear sheet styrene, mirror faces are made from Tamiya reflective material. Front grille is scratchbuilt from aluminum cans and topped with a PE Cavallino Rampante from Hasegawa 348ts kit. All decals were taken from different Ferrari kits, except one on the windshield that looked all right. There are also some minor modifications made because of parts fit, etc. With a LOT of work, this kit is actually looks nice!
---
Copyright 2002 Alex Kustov. No copying or reproduction in any shape or form without written permission of the author.