BMW Z3 Roadster 1.9 (1996)
---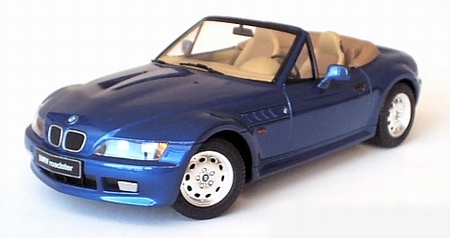 ---
Kit: 1/24 Tamiya BMW Z3, kit # 24058

Comments: The kit represents an early (1.9 liter) version of the car. Everything about this kit is excellent - great fit, accurate proportions, highly detailed interior, soft tires with authentic thread - a typical high quality Tamiya car kit. There even metal transfers with all the badges. However, there are a few cons - the kit is curbside, wheels are not very interesting, chassis is one piece with many molded details and is very hard to detail-paint. Would be a good kit for a beginner. I wish Tamiya would make a restyled version of the car too - I plan to do this conversion by myself.

---

The quality of the pictures on this page is not the best only because these pictures were taken about 5 years ago with my very first digital camera that was 0,8 mega pixel and had a very bad lens. The model is not with me at the moment, but I will re-shoot it as soon as I get the chance and update this page with new pictures.
---
Copyright 2005 Alex Kustov. No copying or reproduction in any shape or form without written permission of the author.