ABC Brianza Ferrari 206P Dino Salone di Parigi Show Car
---
ABC/Brianza has been making kits for a very long time. And even though their kits are not the best in the business quality-wise, they produce few very interesting subjects, and this is one of such kits. Original vehicle was made by Pininfarina as a show car for the 1965 Paris auto salon, and in my opinion, is one of the most interesting designs of the 60's. As far as I know, ABC makes only 2 Ferrari kits in 1/24 (the other one is 340 Mexico).
Packaging of the kit is standard ABC cardboard box, with some bubble wrap and peanuts inside to protect the parts. Most parts are packaged in separate plastic bags as well. Kit arrived in absolutely perfect condition from IslandCollectibles.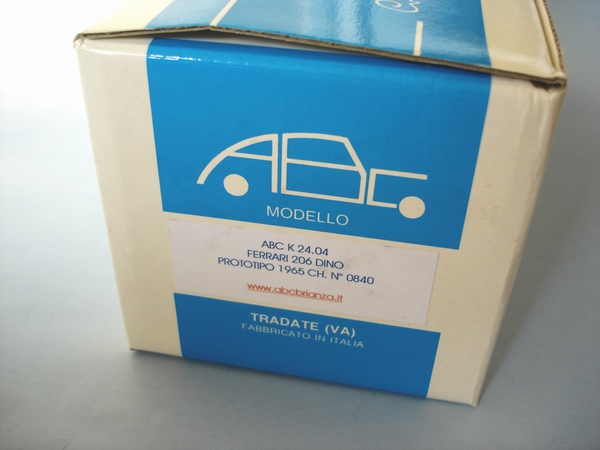 Body is molded in light yellow resin. Moldings are relatively clean, with thin and accurate panel lines, and sharp and clean edges. Body surface is not as smooth as on latest kits from MFH, but still very good. The kit is curbside, so there are no opening/separate panels of any kind.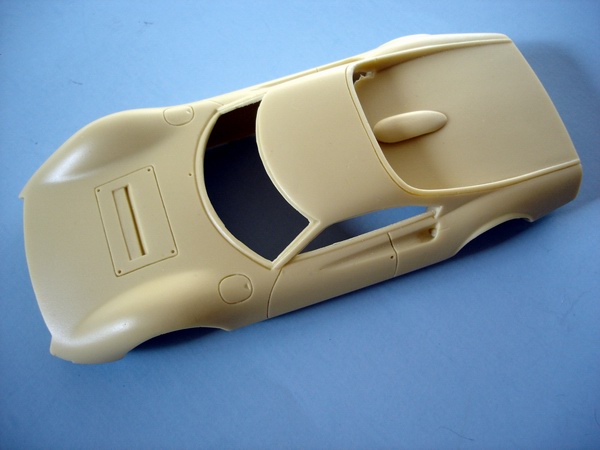 Body proportions seem mostly correct according to the pictures of the real car that I have in my archive. The only part that is questionable is the roof angle at the very back, but the pictures I have are really misleading. There are some flash here and there but nothing serious.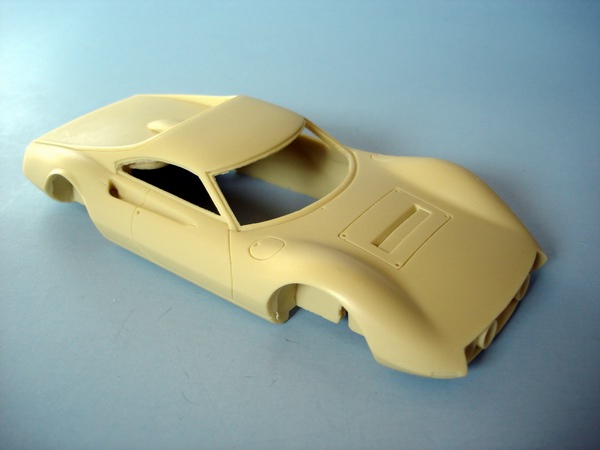 Underside and insides of the body are a bit rough, and will require some careful cleanup with motor tool. The body VERY thick, and heavy too. My example is very slightly warped in the front, but I'm sure few dips into boiling water will fix it. Casting quality is much better than ABC's Mexico kit, there are almost no bubbles in the resin.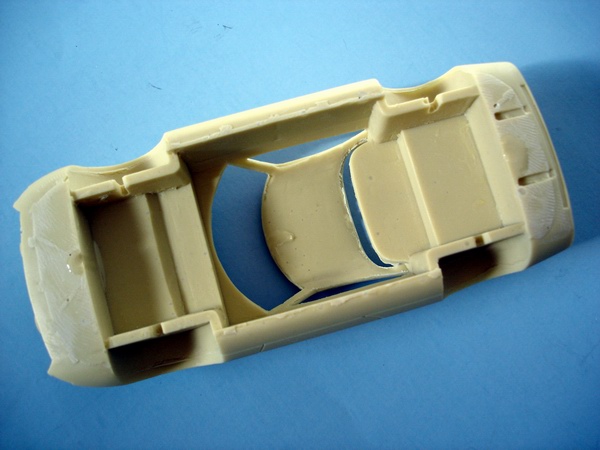 Wheels are made from several parts - turned aluminum rims and white metal cast centers, with nicely molded soft rubber tires, and different diameter brass tubing for the axles. Tires have nice thread, but no sidewall detail. Fit of all wheel parts is good, and with careful assembly they will look great.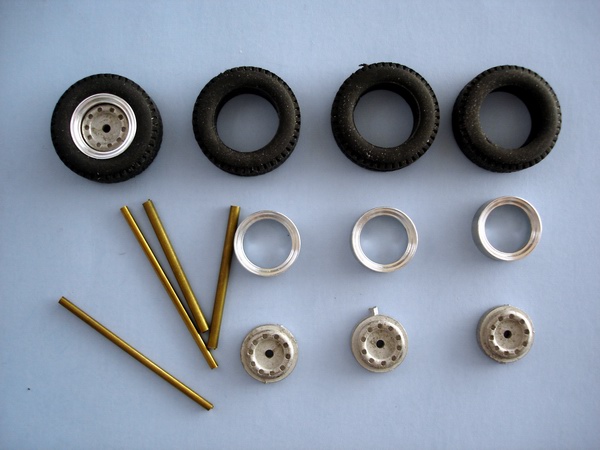 Steering wheel rim is made from two separate plastic pieces, there is also small sheet of clear plastic for windows and two pins (most likely for the steering column/shifter).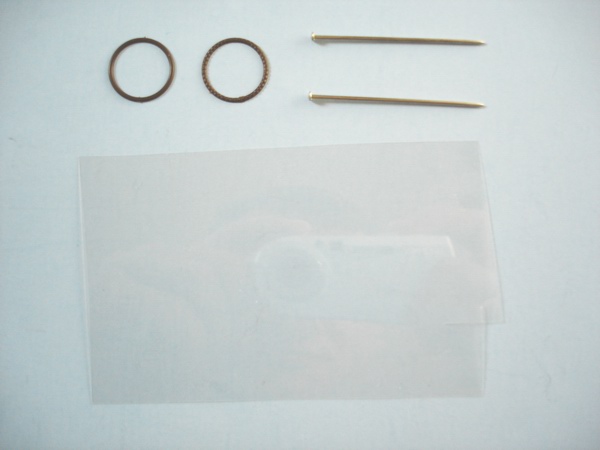 There are no chassis/suspension detail to speak off, just a brass plate with the name/make of the model. It is quite nice though. There is also rear vent mesh on the same fret.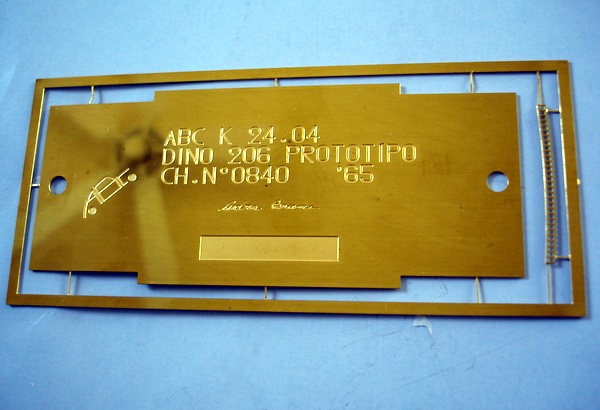 There are also few simple photoetched parts. Grilles, instruments, lights and lenses, windshield wiper, knock-offs, pedals, steering wheel spokes, rearview mirror, and few other small details.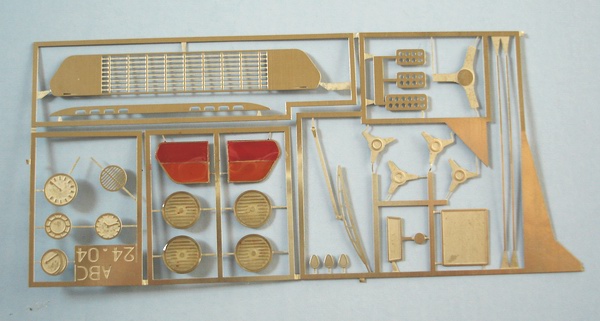 Another P/E fret contains window trim and front turn signal trim pieces. Both frets made from somewhat dull and thin metal. Etching is quite good, attachment points are not very big. The metal is soft, and should pose no problem with cutting and sanding. It bends easily though, and this might be a problem with some parts.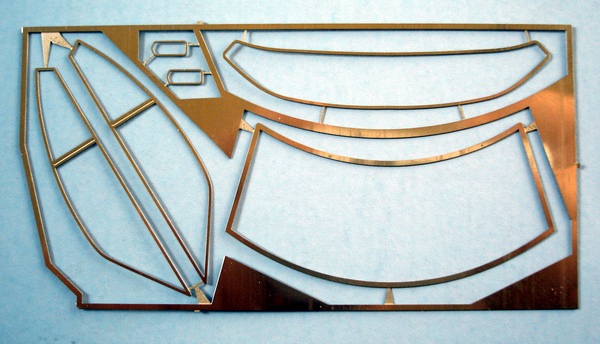 Decals are minimal, and poorly registered, but useable. There is also a vacuum formed front headlight glass cover, and a small P/E fret with some induction part (I believe).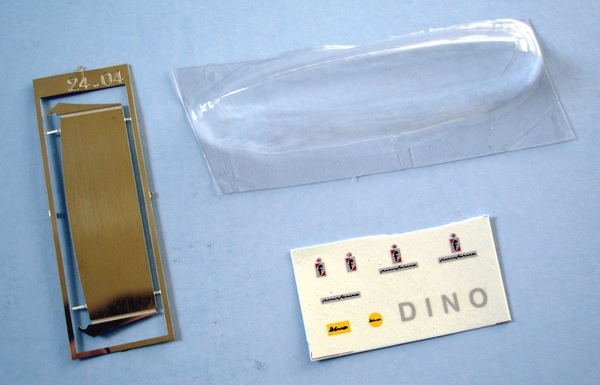 Dashboard and seats are separate resin pieces, all nicely cast. Seats have correct pattern on them, and are very thin. Dashboard instrument binnacles are not exactly correct, but otherwise the dash looks good. All pieces fit into the interior tub perfectly.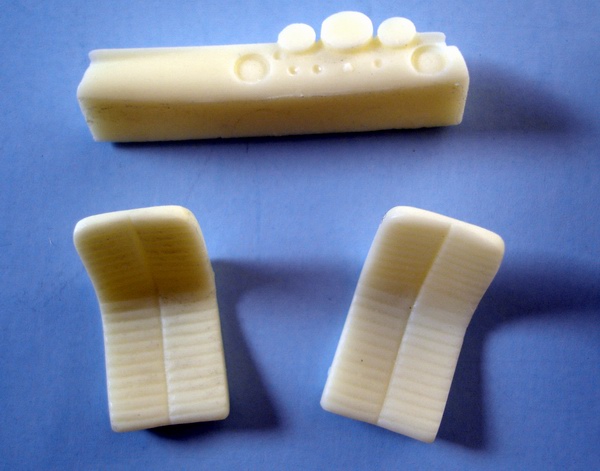 Interior tub is molded from the same resin used for the body, and its a very clean and simple piece. Only very minimal cleanup will be required to prepare the part for painting.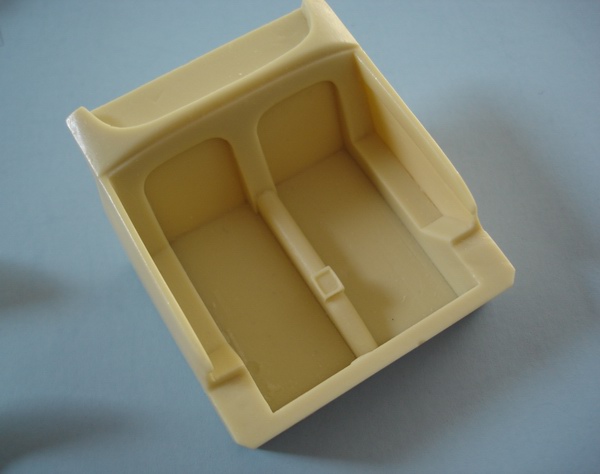 This is a very simple kit, but with few additions could be build into a very convincing replica of the 1965 Paris show car. The fact that kit contains few pieces, makes it a perfect kit for a beginner modeler as a first resin kit. I hope to start this kit very soon, as I absolutely love the car's design.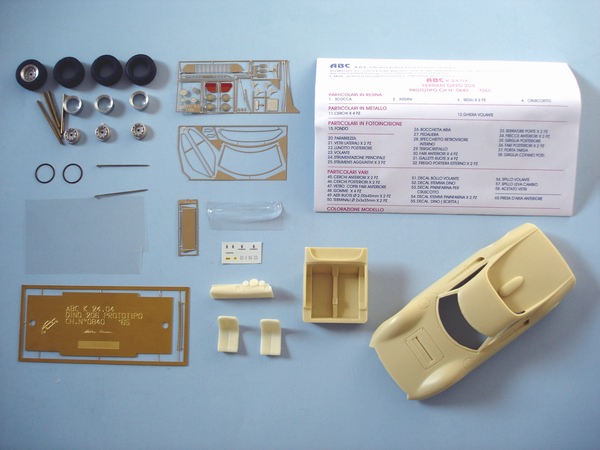 ---
Copyright 2005 Alex Kustov. No copying or reproduction in any shape or form without written permission of the author.