Hiro Model Factory/Studio 27 1/20 Ferrari F156 "Sharknose" /1961 Monza GP
---
Hiro Model Factory is not a new name in Formula 1 models. Hiro's catalogue includes many F1 machines from several major manufacturers such as Ferrari, McLaren, Williams. But what make this kit special is that for the first time in recent history, Hiro made a kit of a vintage Formula 1 racer, and what a kit! Ferrari Sharknose is everything you expect from Hiro - mind-blowing number of parts in precisely cast white metal, minute accuracy, great decals, and of course, $200 price tag!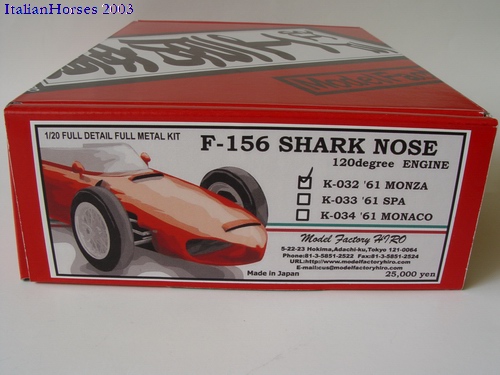 Body is nicely packaged into a small plastic box, together with the frame and some fuel lines. The rest of the parts are packaged into another, more sturdy plastic box which could be closed and secured with two latches.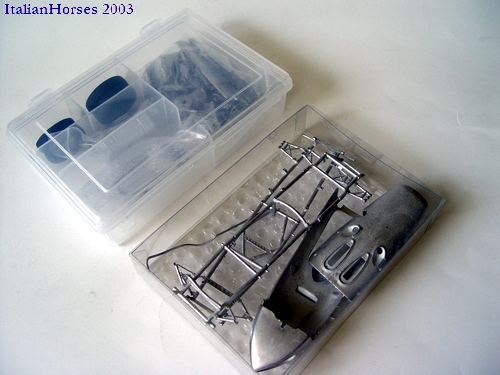 Body is cast in white metal, and its absolutely perfect! Fit is excellent, and every little rivet is faithfully reproduced. Frame is as close to the real thing as it can get in a 1/20 scale model - very nicely cast and very accurate.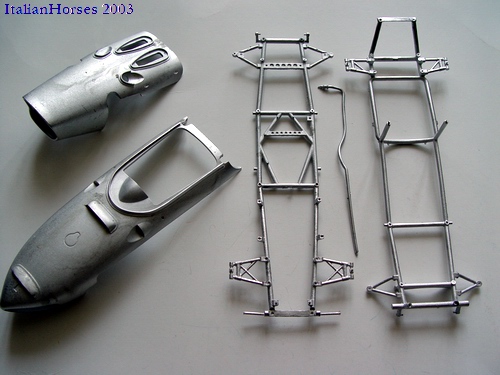 Tires are similar to other Hiro offerings and molded in soft rubber, with correct thread pattern and crisp (and correct) sidewall markings. Rims are constructed from 3 pieces and a spindle, all turned aluminum parts.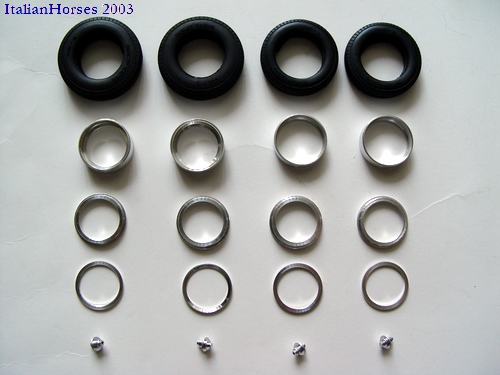 Then there is a set of polished turned steel parts - exhaust tips, carburetor bellmouths, instruments, clutch body, and ignition coils. All parts are perfectly done!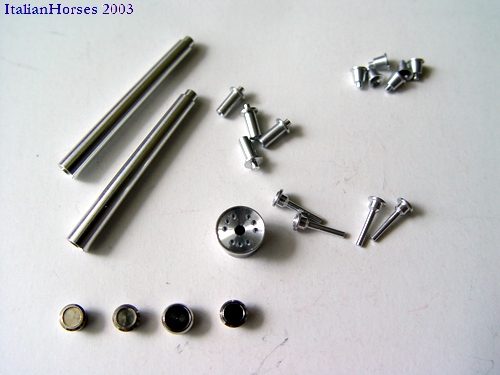 White metal engine is a work of art! Every single detail is reproduced, although some of the pieces will require minor cleanup to look good.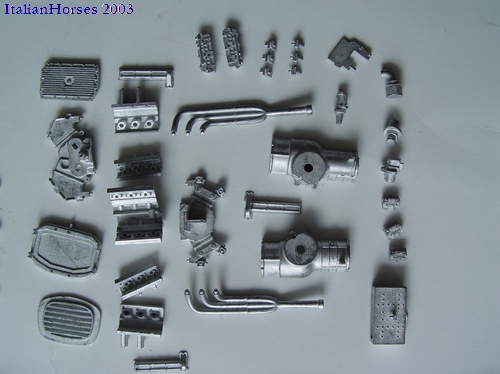 Clear parts include windscreen and little light covers, there are also white metal knock-offs, and some wire for the spark plug wiring, coils for the shocks, and tiny screws for suspension assembly.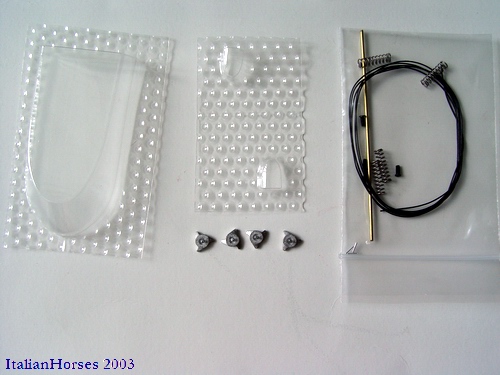 Suspension is also very detailed, with all necessary spindles and linkages.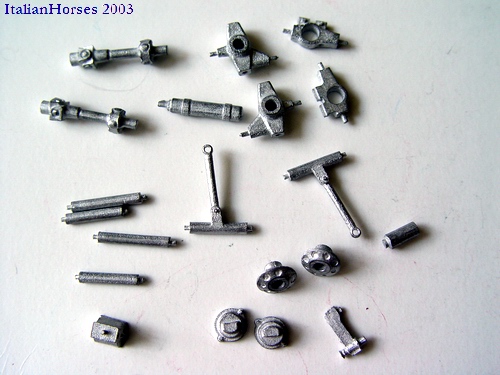 A number of small parts for the engine and suspension is still on the trees, and will require minor cleanup before assembly.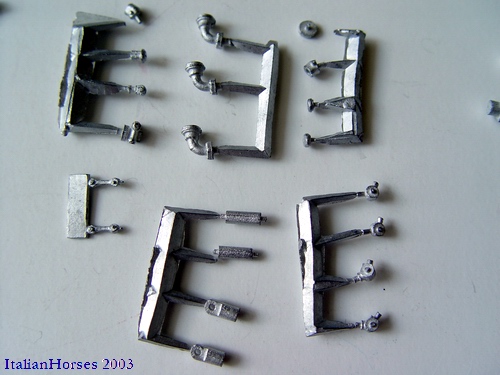 Every single fuel, oil, and water line is recreated in white metal. Part will require some mold-line cleanup, some of them could be even substituted with real hoses and lines. But even if you use kit parts, they will look very good.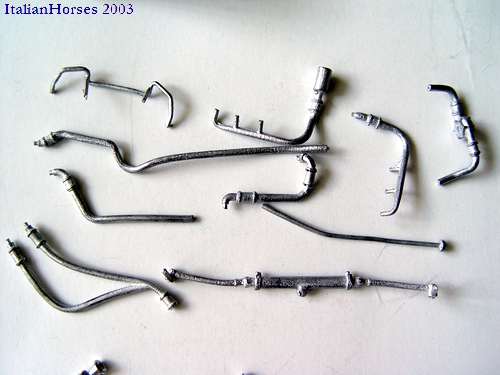 Body sides, seat, roll bar, steering wheel, side mirrors, and a special mold for shaping of the tiny metal mesh for the intakes.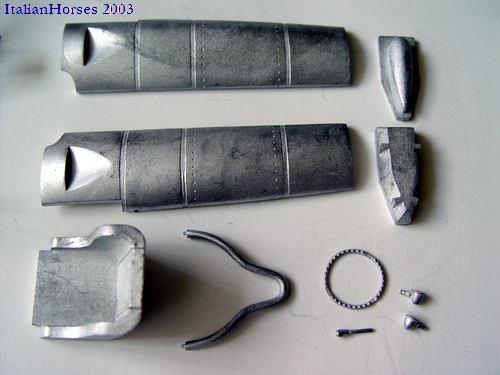 Main photoetched fret is again very impressive, with all necessary details included - radiator faces, brake faces, flanges, dashboard, pedals, etc. As usual, photoetched parts are made from very thin sheet of soft metal, and will pose no problem with their removal. Engraving is top-notch too.
Wire wheels are assembled from 6 pieces, to give you an amazing number of spokes in each wheel. Photo etchings are very thin and accurate.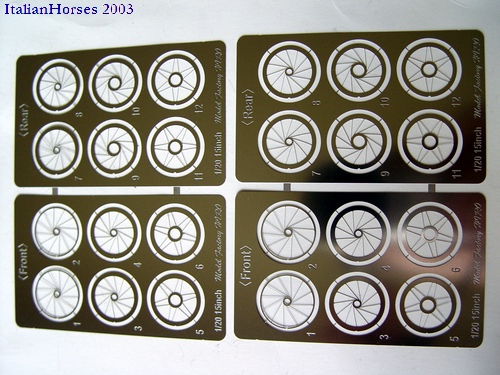 Decals provided for five different cars that run at 1961 Monza Grand Prix. Decals are very nice, with almost no clear film around the images, and very well registered. From my experience, Hiro decals are very opaque, and respond well to setting solutions.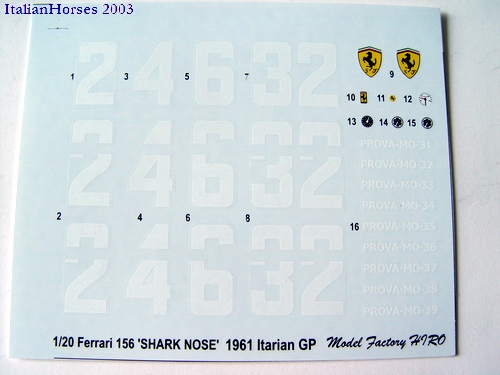 Finally there is one more photoetched fret with additional details, like grille mesh, rivets, straps, steering wheel, etc. On this picture you can also see two sheets of tiny metal mesh for the air intakes.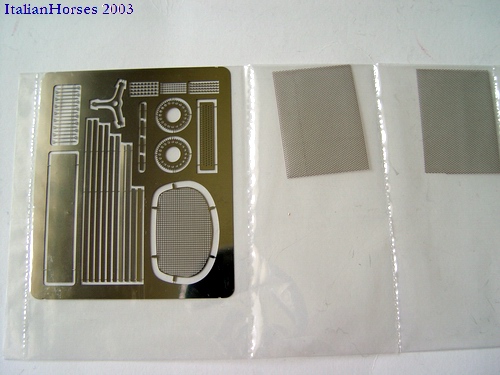 The kit is breathtaking! Once again Hiro Model Factory done an outstanding job in recreating very significant F1 Ferrari, the famous "Sharknose". The kit could be built into amazing replica, and given Hiro's reputation for quality, I'm sure it will pose no major problems during assembly.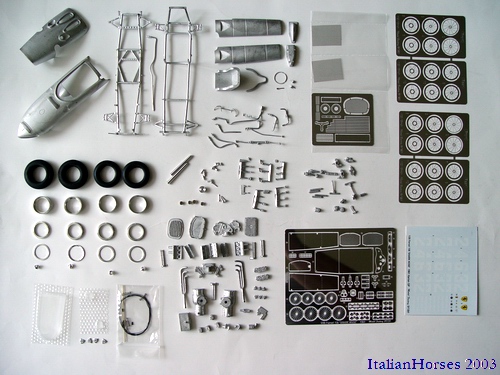 ---
Copyright 2003 Alex Kustov. No copying or reproduction in any shape or form without written permission of the author.