Model Factory Hiro
---
I know I'm really late with the review of the kit since it has been released long time ago, but to be honest, guys at MFH are workaholics, and release so many new kits that I can't keep up with my reviews! I have acquired several more MFH kits over the last few months, and will try to put some reviews together later in the year. As many of you already know this kit is another one based on a wonderful Climax kit, but it has been extensively re-worked.
The box is usual Hiro box, with nicely printed sticker (Hiro makes 5 versions of the car), parts are carefully packaged inside the box, in individual bags, etc.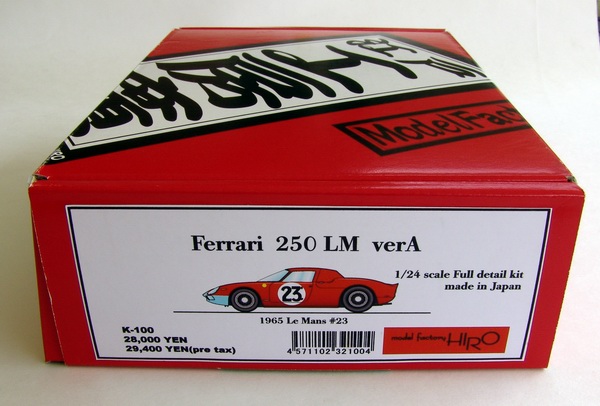 Body is almost an exact copy of the Climax kit with only difference that it is nicer resin, and better quality casting. It looks (at least to me) crisper than the original.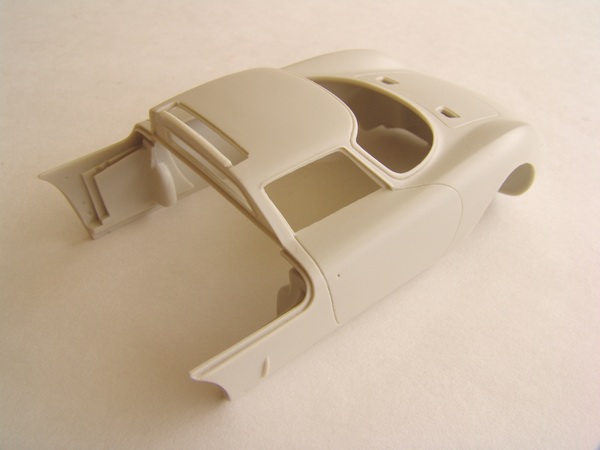 Panel lines and other engravings are nice and sharp. Overall quality of the resin parts in the kit is very good, maybe the best I have ever seen.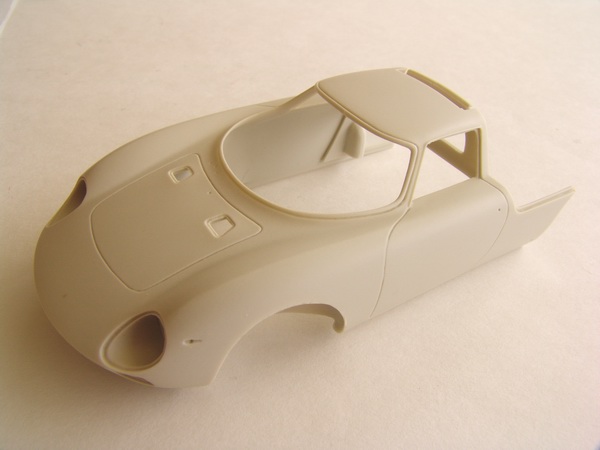 The engine lid lid has metal hinges embedded in resin casting and is a very nice piece. Very thin and fragile, but crisp and accurate.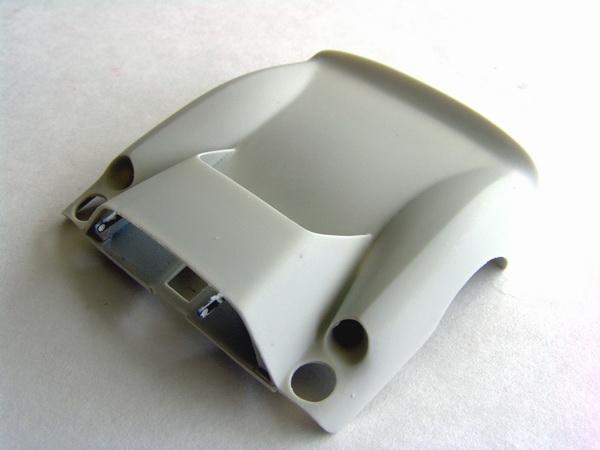 Underside of the engine lid has some detail on it too, some air ducts and parts of the supporting frame.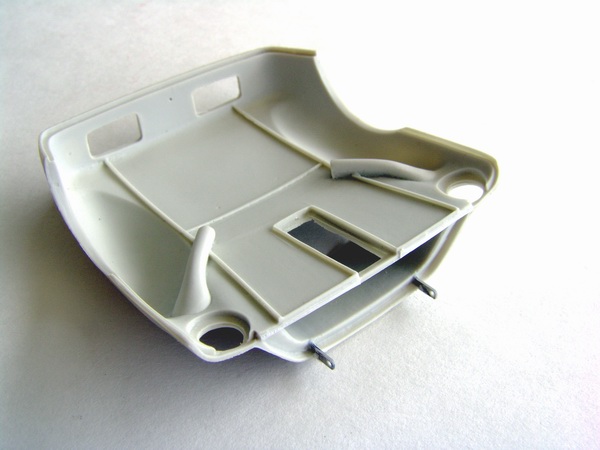 Interior base (with engine firewall) and dashboard are also very clean and crisp pieces, even though not entirely correct (central tunnel).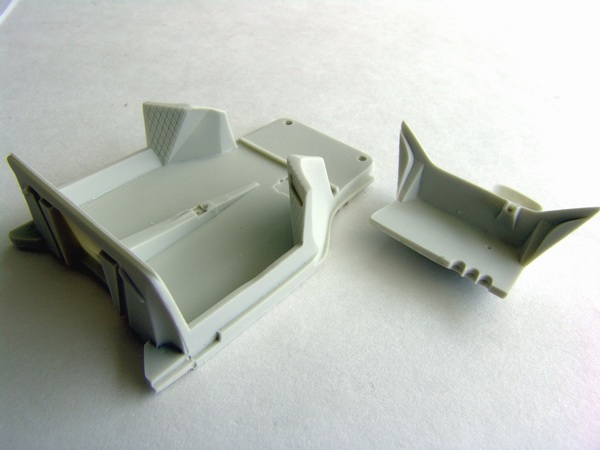 Decals are one of the best I have ever seen in the model kit. Nicely registered, with all correct markings, very thin and opaque, no clear film around the designs. But that is expected because they are printed by Cartograf! Excellent stuff. (Added 3/21/07: I have just completed Hiro's 250 GTO kit with similar decals and blue decals were very hard to conform to curved surface because of their thickness. Lots of setting solution and heat recommended for correct application).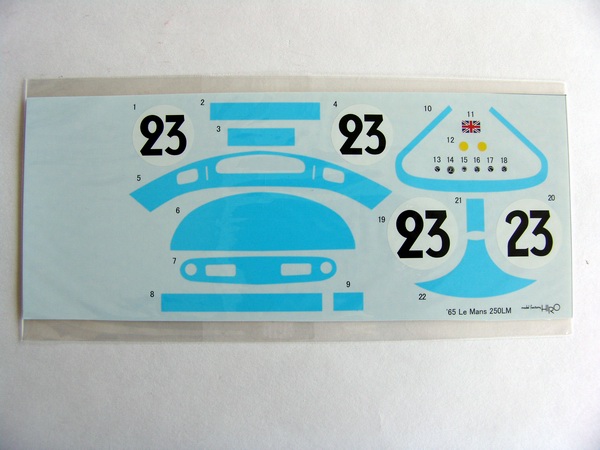 Hiro includes a set of self-adhesive 3-D Ferrari badges and emblems in various scales in every Ferrari kit now. Thin self-adhesive drive belt is also a great addition to recent Hiro's kits.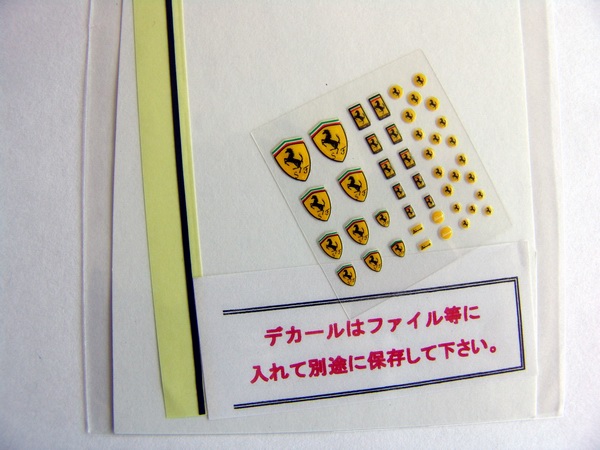 Wheels are traditional, very high quality, 10-piece each assemblies, with excellent turned aluminum multi-piece rims, thin photoetch, and nice and soft rubber tires.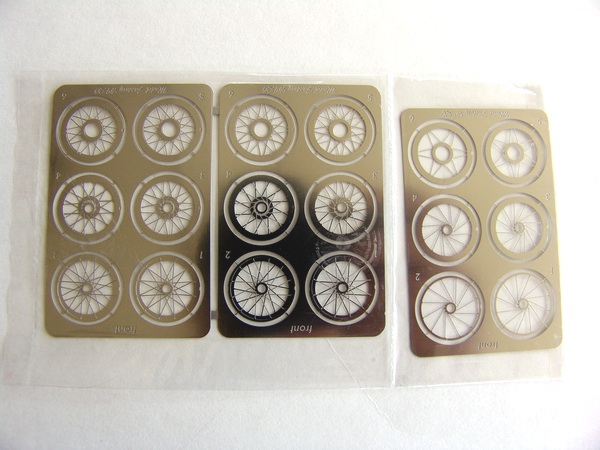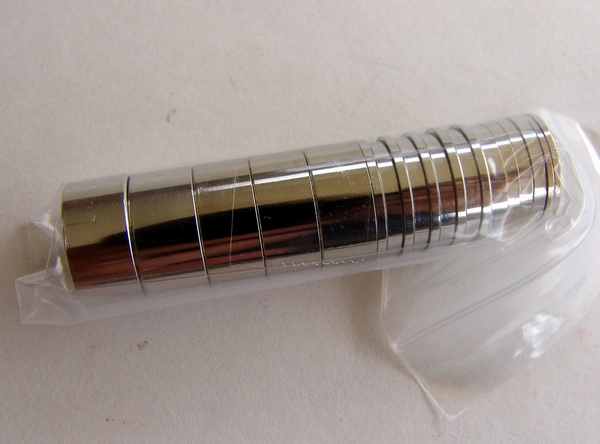 The tires in Hiro kits have absolutely the best thread detail I've ever seen in a 1/24 scale kit - better than Tamiya's! 5 tires (1 spare) included with the kit.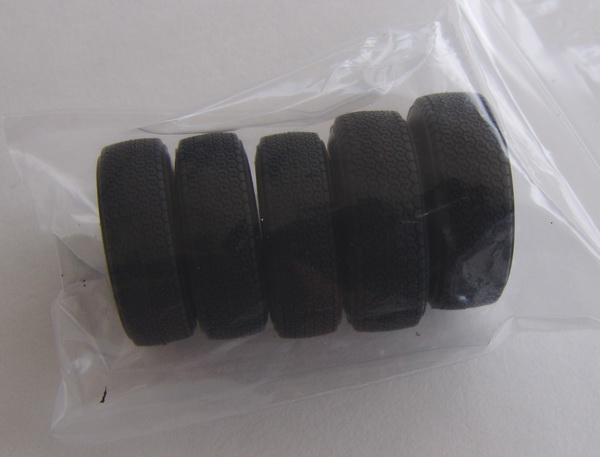 Vacuum formed windows and headlight covers are clear and warp-free. Hiro's windows are usually a treat to use - just cut out and glue.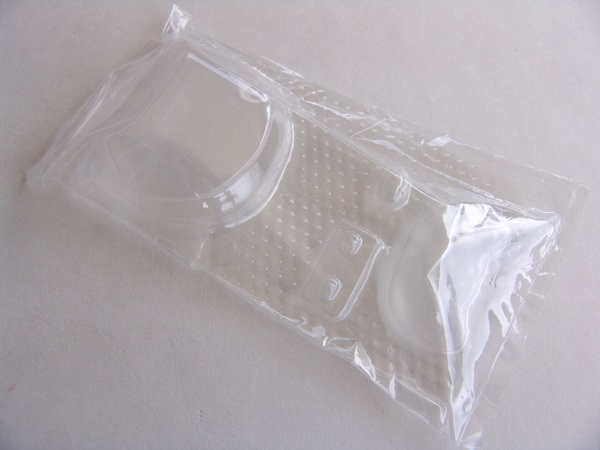 Main photoetched fret is rubber-backed, meaning that you won't have to cut the parts off the fret - just peel and use. This is a big improvement compared to old-type photoetch, and will greatly reduce preparation time for every P/E part. The quality of the parts is very high, with nice engraving and excellent detail on every part. The sheet is somewhat smaller than in previous kits though. Note that there are several grille and lights surrounds variations provided on the frets.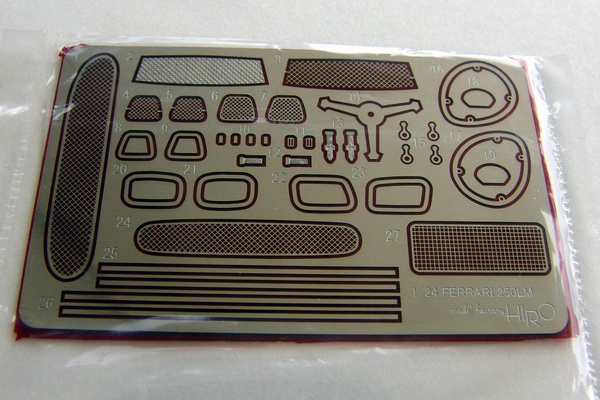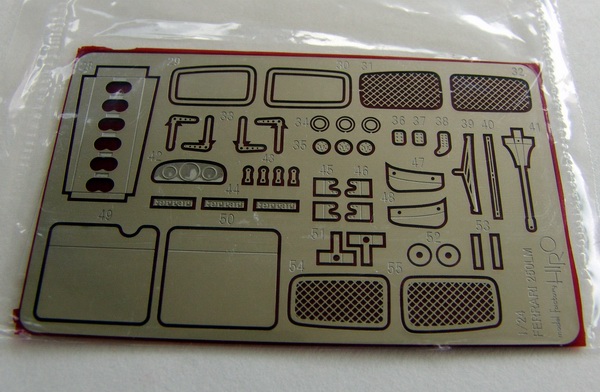 Kit has colorful and very easy to follow instructions. Paint guide is not 100% complete, but what's there is accurate and easy to understand, even with almost no English. Hiro's instructions are even easier to understand than Tamiya's, due to use of different colors and superior detail in each drawing. One of the best instruction sheets I've seen.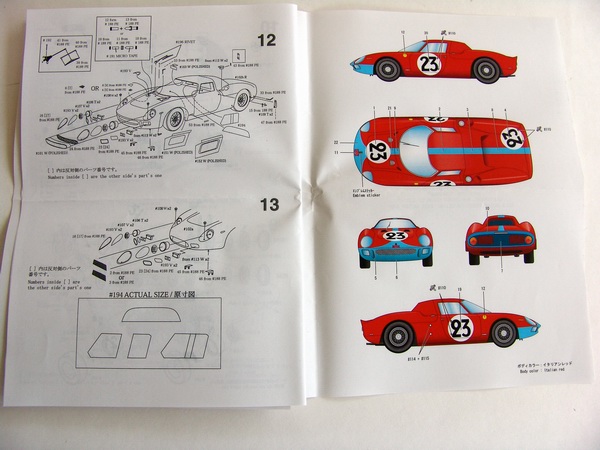 Each new Hiro kit contains more and more beautifully turned steel and aluminum parts. In this kit it is wheel hubs, velocity stacks, horn button, lights, blinker and wiper handles, brake disks (nicely engraved to imitate pad's grooves), headlights and taillights bezels, and excellent exhaust tips.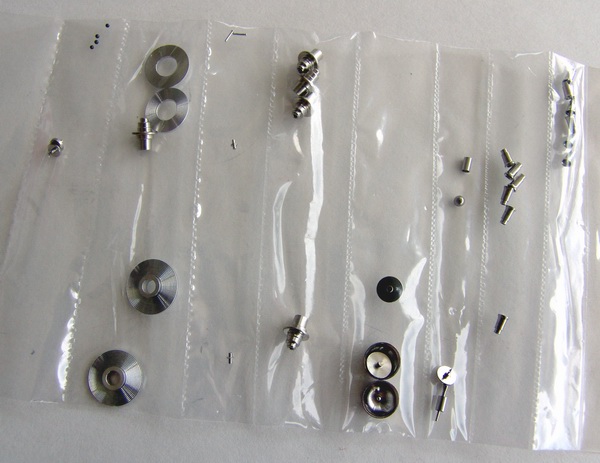 There is a small bag with various goodies - wiring, screws, springs, axles and clear plastic for the windows.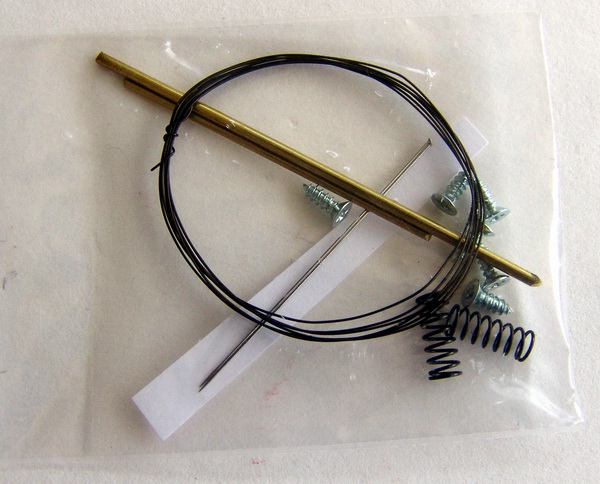 There are few chrome plated metal parts, and quality of the plating is superb. Fog lamps, gas caps, and multiple handles and latches are all plated, and attachment points are located in inconspicuous places for easy cleanup. Lights are made from high-quality clear resin and look superb.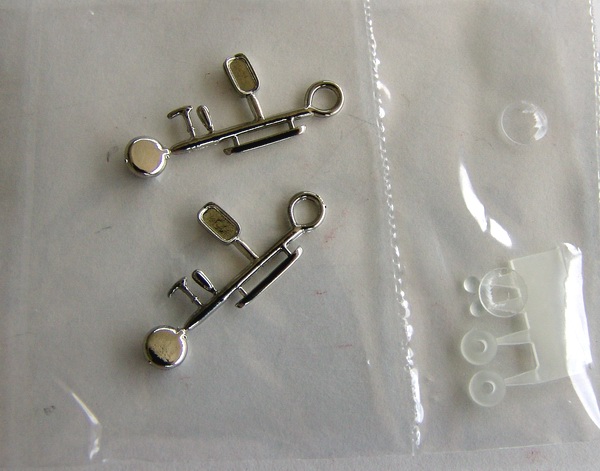 Assortment of metal rods and tubing.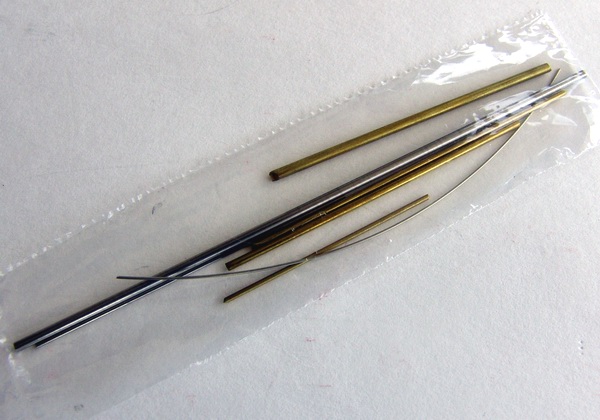 The rest of the kit is made entirely from white metal. Most white metal pieces are somewhat rough, and will benefit from thorough cleaning, and even some filling. Preliminary test-fitting showed relatively good fit, but I'm sure few adjustments will be needed during final assembly.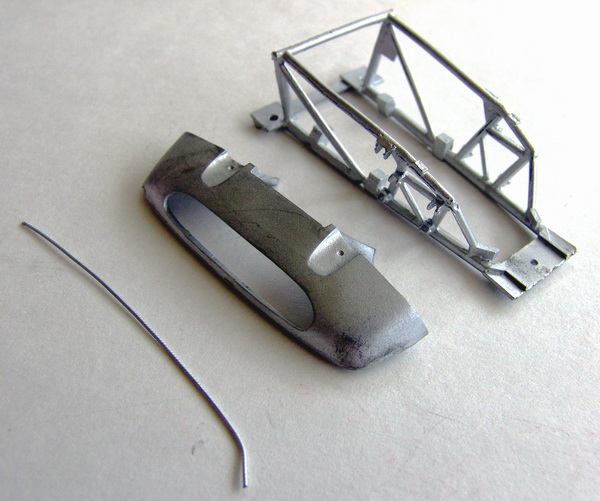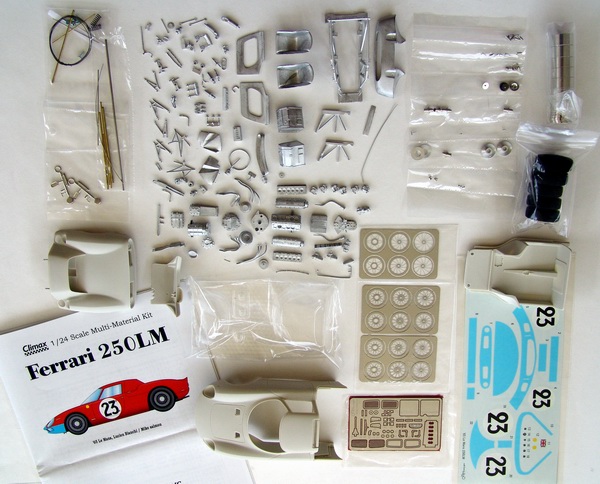 The kit is absolutely the best 250 LM Ferrari kit to date (since it is based on the best-ever Climax kit, and Hiro managed to make it even better!), with superb engine and drive train detail, excellent interior and true to life exterior detailing. With some skills, the kit could be built into a very impressive replica. The price is high at ~$250 US, but you get what you pay for - and you get a lot! Recommended to experienced garage kit builders and Ferrari enthusiasts.
---
Copyright 2007 Alex Kustov. No copying or reproduction in any shape or form without written permission of the author.