Model Factory Hiro Ferrari 250 GTO
---
As mentioned in MFH Ferrari 275 GTB Prototype review, Model Factory Hiro (a.k.a. the best friend of 1/24 Ferrari enthusiasts) recently acquired tools of highly sought after Ferrari kits of Japanese company Climax, and this kit is a [slightly modified] reissue of one of these Climax kits. According to few sources, this reissue is almost identical to the original kit, with slight deviations/additions, Hiro's own design of wire wheels, and better decals.
The packaging of the kit is Hiro's standard fare, nice padded cardboard box, with attractive graphics showing the versions of the model included in the box. I got version "B" and it contains decals for 1963 Tourist Trophy cars of David Piper and Graham Hill. I always wanted to build Piper's GTO!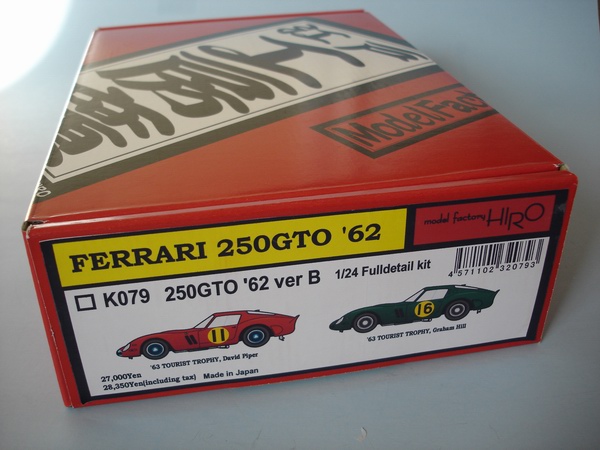 Body moldings are super clean inside and out, absolutely no flash in my kit. Light gray resin is top quality, and castings are almost perfect - few very small bubbles. Surface on all body panels is very smooth and shape looks spot on. Definitely one of the better shapes of the gorgeous Ferrari classic.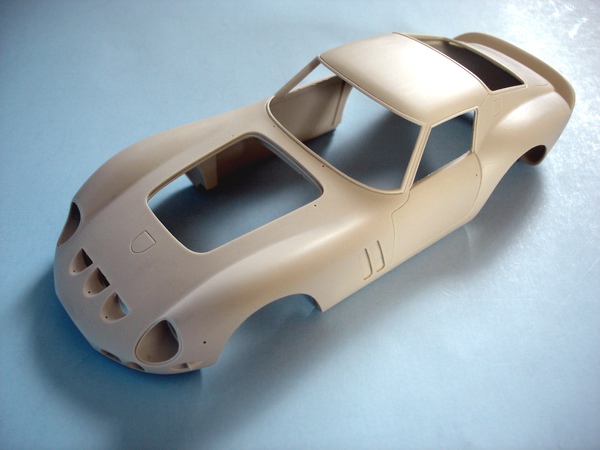 Insides of the body are equally smooth and nicely cast. Body is relatively thick, but delicate enough to give an impression of thin aluminum sheet metal in a completed model. The only drawback that I can think of is that front fender vents and rear wheel vents are not molded open. Rear vents can easily be opened, but front fender vents would be very hard to open.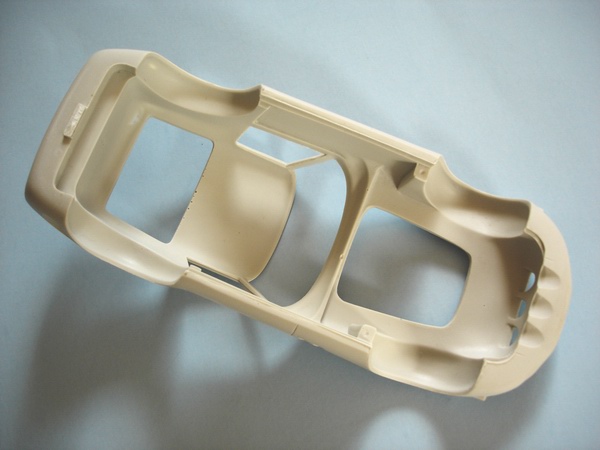 Parts of the chassis and interior are molded in one piece, together with inner front fenders and firewall. The molding is very smooth and fits perfectly inside the body.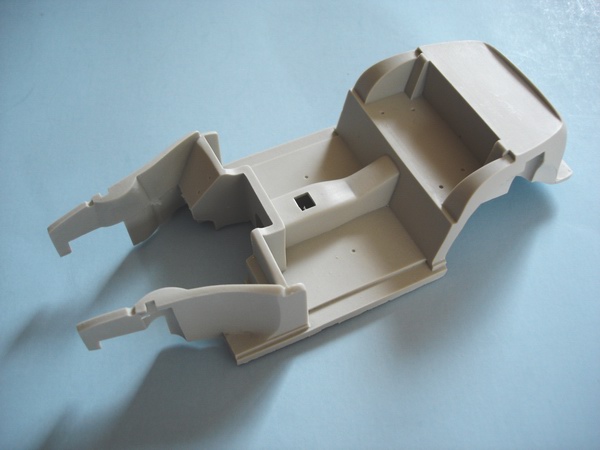 As you can see on this picture, parts of the frame are molded in the chassis (the rest of the frame is made from white metal). There is some flash and light mold lines on the chassis, but they can be easily removed with sanding sticks/files.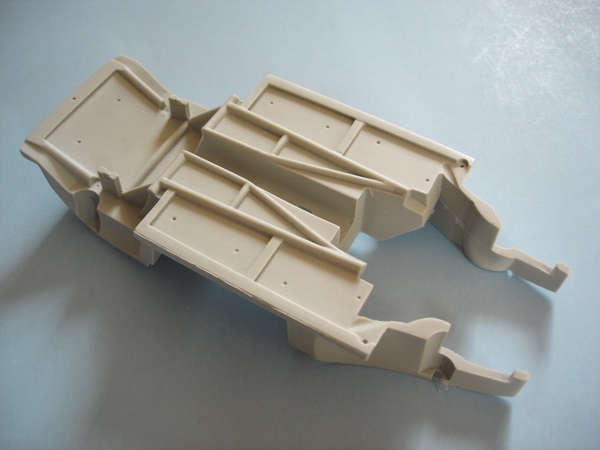 Decals are made by Cartograf, and sheet is big and very colorful. Decals are thin and perfectly registered, with very little clear film around the edges. They are also very opaque, and from my previous experience with Cartograf, they work perfectly with decal setting solutions. All correct markings for all versions provided on the sheet.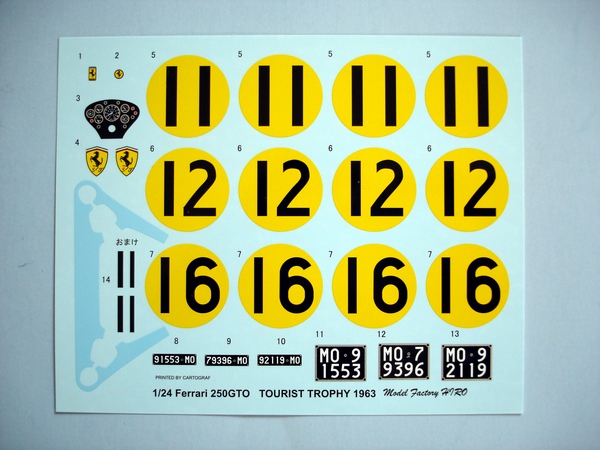 Next, there are 4 small frets that contain spokes for four wire wheels (fronts and rears). The frets are same high quality as in all Hiro kits, and will build into great looking Borranis.
Main photoetched fret is also great. Ever since MFH has released 275 GTB/C kit, all their photoetched parts come on a rubber backing, and this makes them so much easier to remove and work with. There is no need to file off the attachment points too. Just peel and use. Fret includes mudguard, door panels, headlight and window trim pieces, wipers, grille mesh, Ferrari emblems, and some other small details.
Windows provided as a vacuum formed detail. There are front and rear windows, headlight covers, and small window vents that were used on different versions of the car. All clear parts are sealed in a plastic bag and are completely scratch free.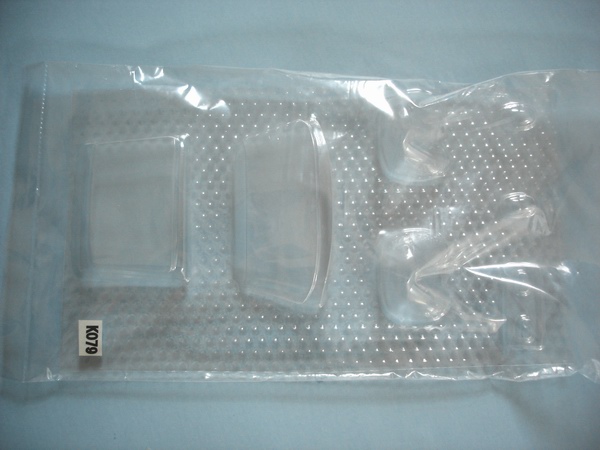 Rims and tires are also standard Hiro's high quality parts. Soft rubber tires have perfect thread detail, and complete sidewall markings of correct Dunlop tires.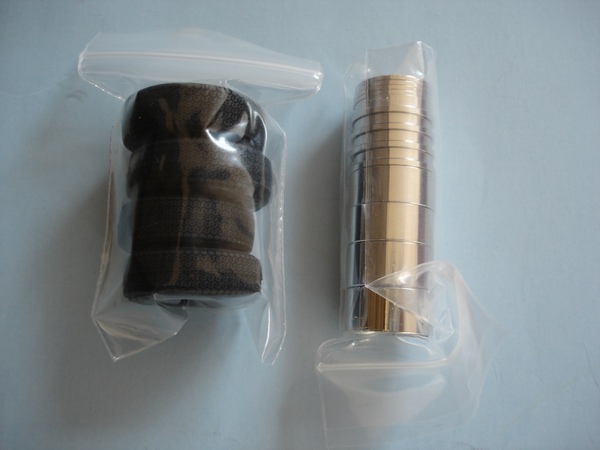 Right hand drive dashboard is provided in my version of the kit, together with some plastic tubing to make the vents from, and some brass rod for different fixtures.
There are a bag with small ball bearings for the cam covers and shifter, tiny rivets for water nozzles, and springs for the suspension.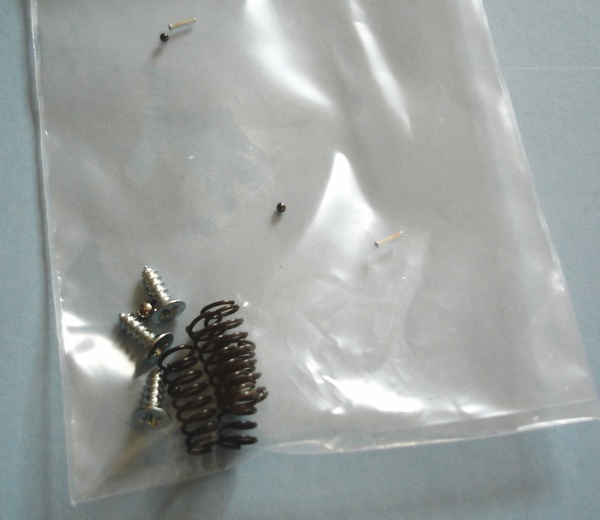 Then there is a bag with all the turned steel goodies! Very nice and accurate velocity stacks for Webers, headlight and taillight bezels, turn signal stalk, horn button, wheel centers, and incredible brake rotors with nice pattern that emulates brake pad scratches.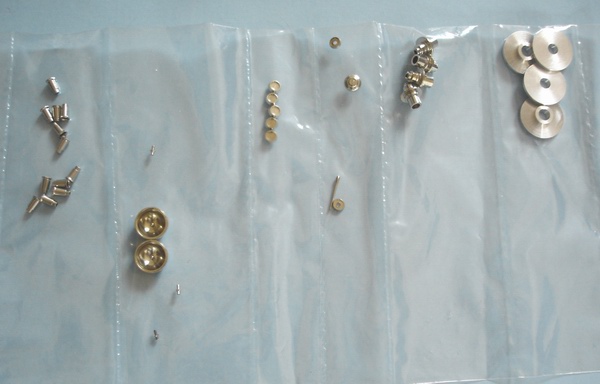 The last bag contains clear parts for all the lights, few metal rods of different diameter, and some wire for the spark plugs.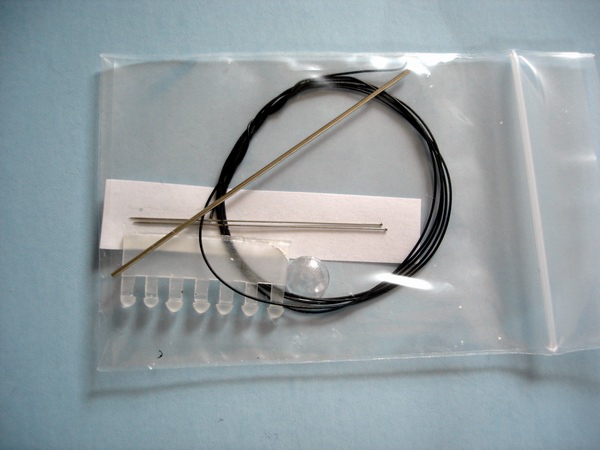 Then there is a load of white metal parts! I'd say there are at least 150 metal parts in this bag! Everything from engine accessories, exhaust manifolds, horns, suspension arms and shock absorbers, to steering column & wheel, knockoffs and different interior parts. All are very delicate, and will require some cleanup, but are nicely detailed and with proper assembly will look spectacular.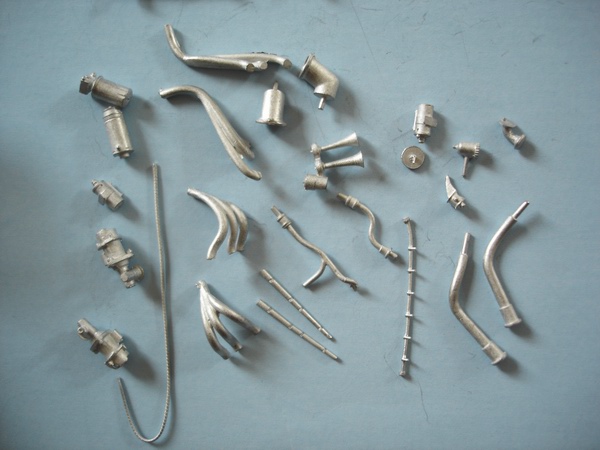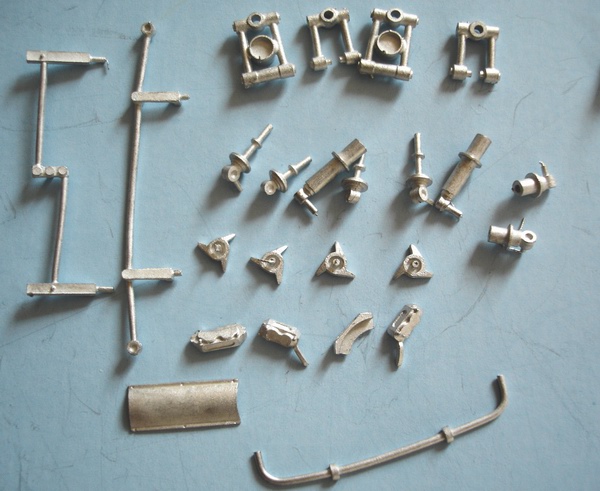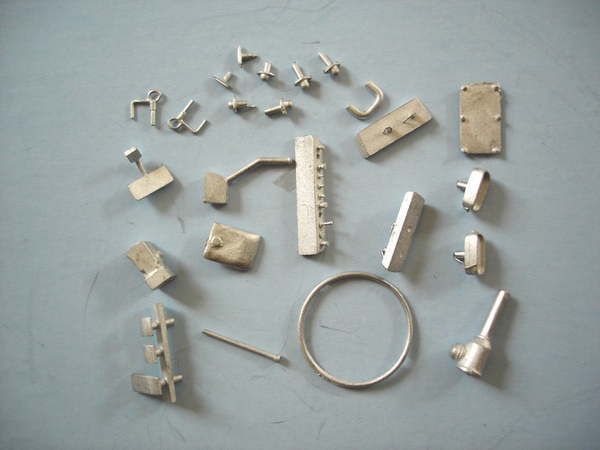 There are also hood (much thinner than in usual Hiro releases) and some other body parts. Rear and front suspensions are very detailed, with separate pieces for the lower frame, drive shaft, gas tank, etc. Finally there are amazing engine and gearbox parts (engine block has cylinders partially drilled out!) with separate carburetors, steering, ignition coils, battery, and water and oil radiators. Take a look at the pictures - the detail is simply amazing.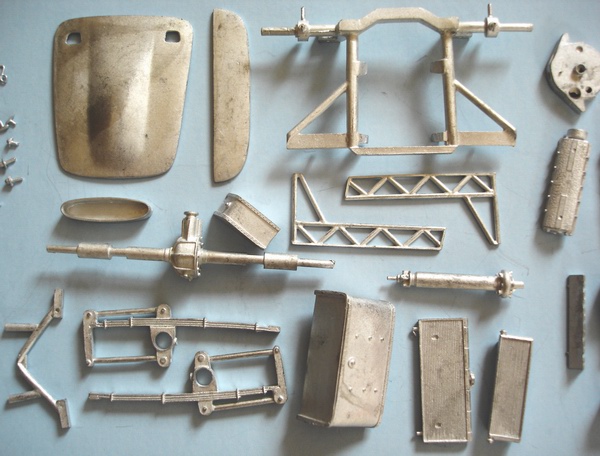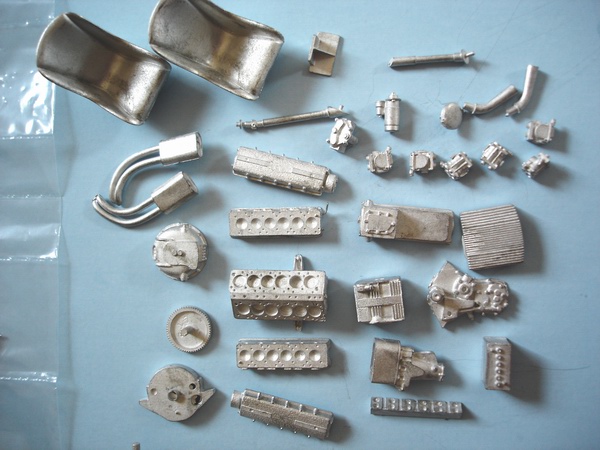 Despite its apparent shortcomings, I think this is one of the most amazing 1/24 GTO kits ever. I feel it is slightly overpriced, but if you take into account that original Climax kits were reaching $600-800 on eBay lately, this is a real bargain. I'm sure the kit can be built into amazing replica, and I will be doing mine as a Piper's car. It is definitely not recommended for beginners, as it might challenge even experienced builders, but if you are patient and careful enough, this kit will bring you many hours of building pleasure.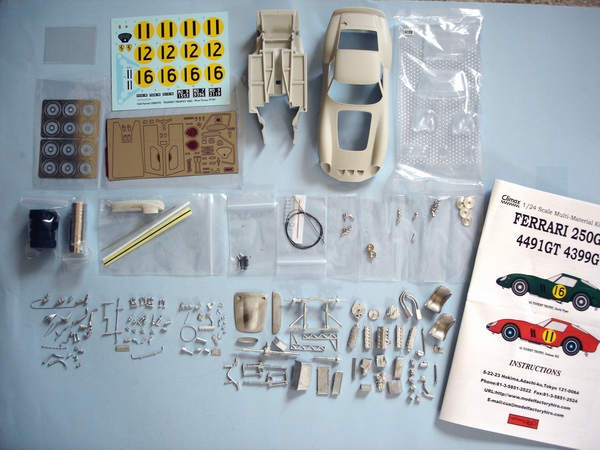 ---
Copyright 2005 Alex Kustov. No copying or reproduction in any shape or form without written permission of the author.