MSM Creation Ferrari 360 Challenge Stradale Transkit
---
When Ferrari announced its new street legal racer - Challenge Stradale, many modelers started thinking about modifying Tamiya 360 Modena kit into a Stradale. Conversion seemed very viable, and very soon, aftermarket companies such as Scale Auto Style released resin transkits to do the conversion. Transkit was quite good and inexpensive, but incomplete. Other aftermarket companies, such as Acu-STion and MSM Creation took their time, and released more comprehensive transkits in November - December 2003. Let's take a look at MSM offering.
Resin parts are molded in yellowish-white hard resin, and have nice and smooth surface. Body panels include front bumper, side panels, and rear hatch. All three seem to be modified Tamiya parts. Rear hatch has good looking "Stradale" bulge, correct side vents and molded-in braces. Kit window fits into the part without problem.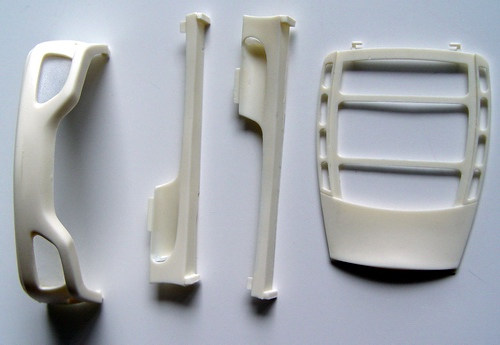 Front bumper looks really good. It is a little "beefier" than SAS bumper, and I think looks more close to the real car. Brake cooling ducts though look better on SAS bumper, MSM ducts look almost identical to stock Tamiya bumper.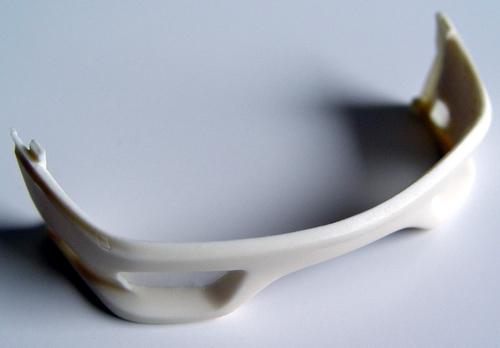 Side panels are very nicely cast, but it seems to me that they are too small. They have correct "edgy" shape, but still too small. Nothing a couple of strips of sheet styrene won't fix though. I'd like to mention that SAS side panels look more correct, though the quality of the castings is much worse.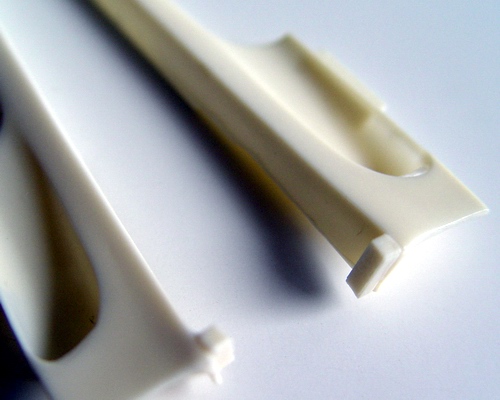 Very important part of the transkit is the wheels. They are very delicate and nicely cast parts, and they look to me like modified (enlarged) wheels from Museum Collection Challenge transkit. They have correct 5-point bolt pattern, and fit Tamiya tires perfectly. It seems to me that the rims must be a little (maybe one scale inch) bigger to be 100% accurate.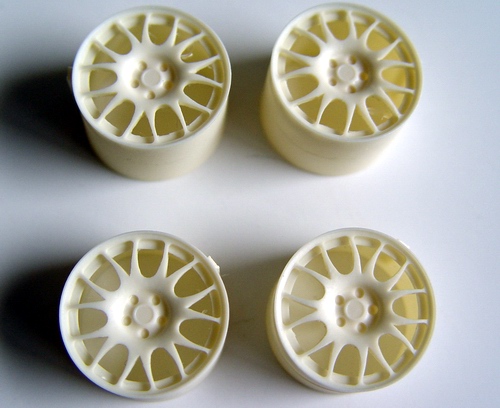 Interior parts look great. Seats are not entirely correct for the Stradale (they are exact copies of Tamiya Subaru WRC 2001 seats), but general shape is there. I would suggest modifying Tamiya Enzo seats for more correct look instead. Door panels look good to me, and fit perfectly with the rest of the kit interior.
There are also few other parts provided in the transkit to make the conversion complete. Side mirrors, gas cap, rear splitters, central console, exhaust tips made from metal tube, and some fine metal mesh for the grille openings. All parts are of very good quality and look correct to me (except maybe for the rear splitters, but I don't have enough reference material to confirm that).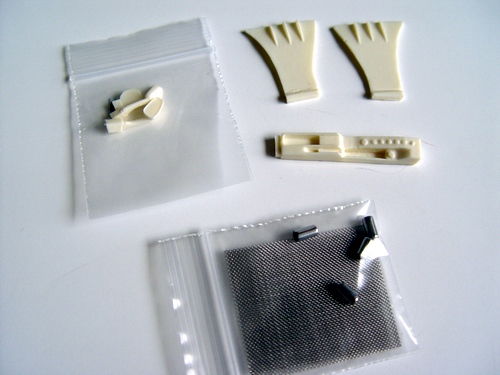 Decals are of very high quality, crisp, perfectly registered, with opaque colors. All correct markings (except maybe for the instrument gauges provided in Acu-STion decal set) are included, and work great with Microsol.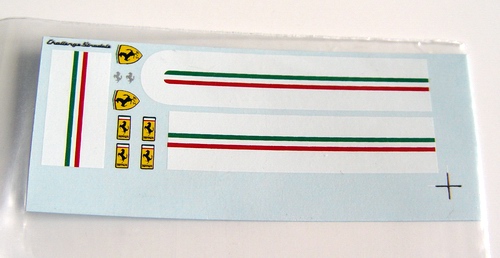 Black and white instructions are very clear and easy to follow. This is one of the most complete Stradale transkits on the market right now, and very reasonably priced (currently about $40 with shipping from Hong Kong). If you add one of the photoetched sets from Acu-STion, you will be able to build great looking Stradale model. Very recommended.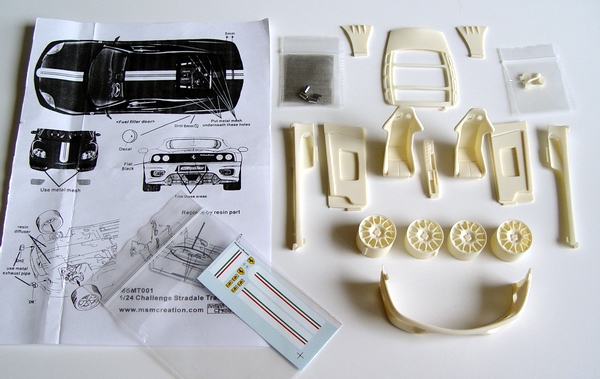 ---
Copyright 2004 Alex Kustov. No copying or reproduction in any shape or form without written permission of the author.