Replicas & Miniatures Company of MD Ferrari 250 GTO V-12 Engine kit
---
This kit has been around for a while, but still one of the best Ferrari V12 GTO engines. Kit comes in slim blue cardboard box, with the picture of assembled engine attached to the top. Packaging is superb, with all parts sealed in plastic bags and padded with foam. There are many curbside 250 Ferrari models on the market, and this kit is really great addition to all of them. It is expensive ($50), but for the level of detail you are getting - its worth every penny.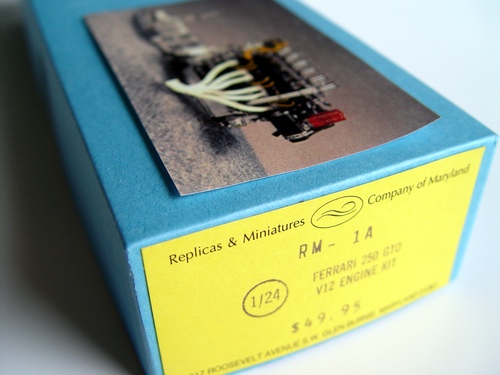 Most of the castings made from white resin. Resin is quite brittle, and castings have some flash. Manifolds are made with long pipes so you could trim then as needed.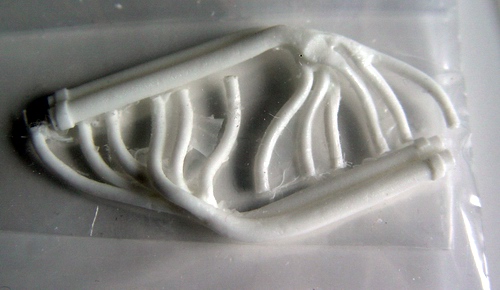 There is a separate bag with carburetor fuel lines (cast around thin metal rod for strength), main pulley, spark plug wire tubes, and several bolt heads. All the parts are really tiny and delicate.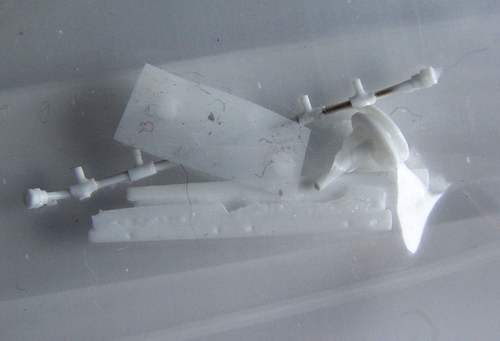 Cam covers are very good looking parts with all bolts and Ferrari emblems molded in. Engravings and details are very crisp. Here you can also see some water lines. All part need a bit of cleanup from flash, but nothing serious.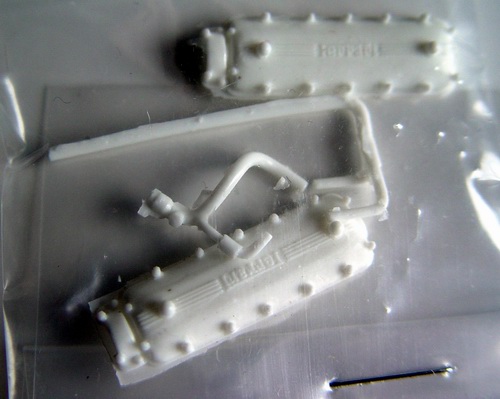 Photoetched parts are provided for extremely detailed carburetor linkage, and throttle return spring mechanism. There is also photoetched shifter gate, generator bracket, and chemically blackened photoetched firing order plate for the engine block.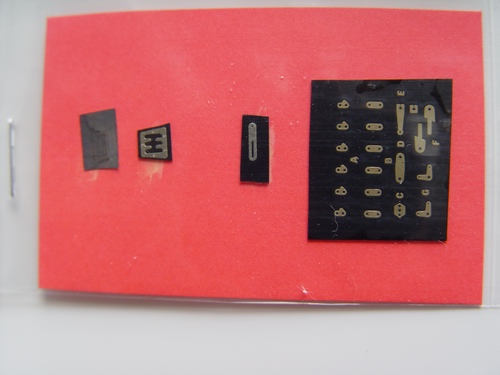 Six Weber carburetors are packed into a foam and look very good. Castings are a little bit rough, but will look good with some metallic paint and a black wash. Funnels are very thin and it is better to replace them with some flared steel tubing for strength and looks.
Engine block and transmission has tons of molded in details, but also quite a bit of flash and mold lines. Both block and tranny will also need a lot of drilling to fit all the equipment.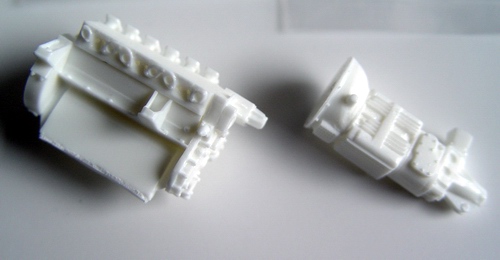 Then there is a small bag with all the add-ons. Generator, oil filter, breather tubes, engine underside, distributors, coils, water pump, set of tiny rivets, and a shifter. All parts will need a little cleanup and some drilling, but the moldings are very crisp and nice.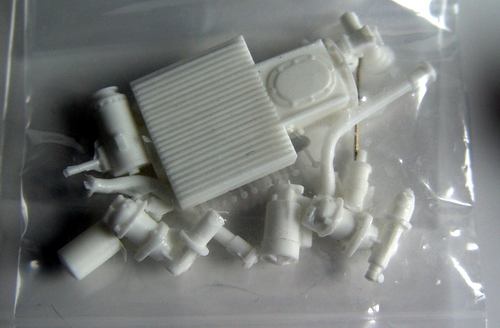 There is also a bag with yellow spark plug wire and a piece of hair-thin wire for fuel lines reinforcements.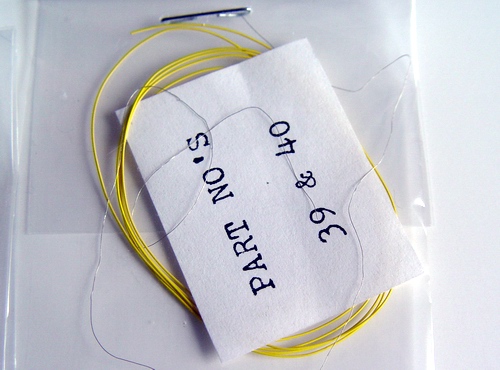 Kit also includes a small piece of Bare Metal Foil for water line's and hose's clamps, and tiny decal for oil filter.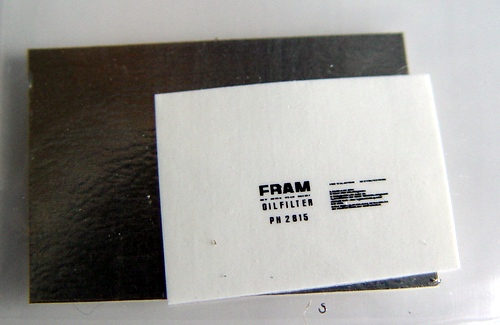 Finally, there is a set of different wires and metal rods for carburetor linkages and throttle return mechanism, and well as tiny brass tube for carburetor funnels, and wires for the fuel lines.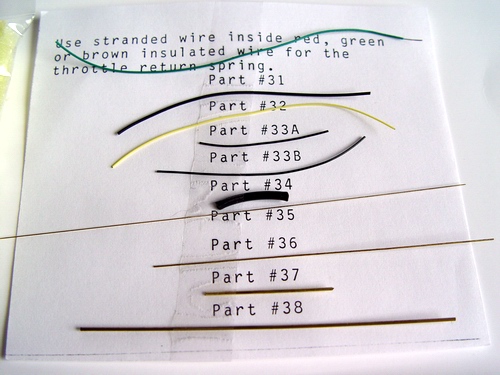 This is a very detailed engine kit, and it comes with almost 40 pages of assembly instructions! (mostly text, but some drawings too). I think this is one of the most detailed V12 GTO engine kits on the market right now, and with a little work will build into a breathtaking replica of the mighty motor. Highly recommended.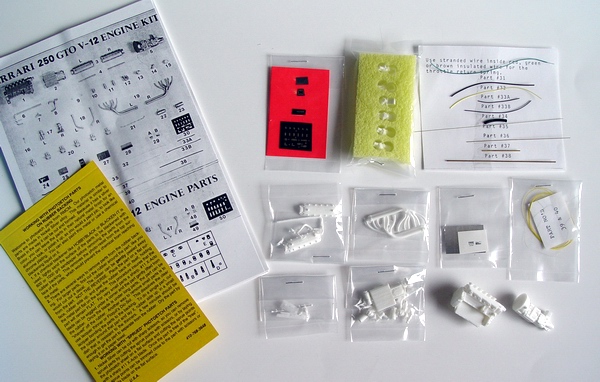 ---
Copyright 2004 Alex Kustov. No copying or reproduction in any shape or form without written permission of the author.