Renaissance Ferrari 360 GT Transkit
---
This transkit is basically a simplified version of the Ren TK-105 transkit, used to convert Tamiya 360 Modena kit into a 2001 360GT racer (see buildup here). All the parts (including rear spoiler) are the same, transkit is only missing racing livery decal sheet. Not a bad deal for only $25.
Wheels are same horrible castings, though this copy looks a bit better than my previous transkit. Tires are made from very soft rubber, but have tons of flash that is very hard to clean up. Wheels are correct size, and can be used for Challenge Stradale conversion if you convert them to 5-bolt pattern. I believe they are available separately from Renaissance for about $15.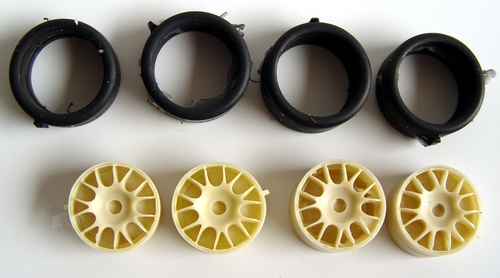 Exterior parts include front bumper, front splitter, and rear spoiler. Parts are cast in mottled resin, but the surface is good and smooth. The splitter is way too thick though, and you will be better of to make one from thin sheet styrene.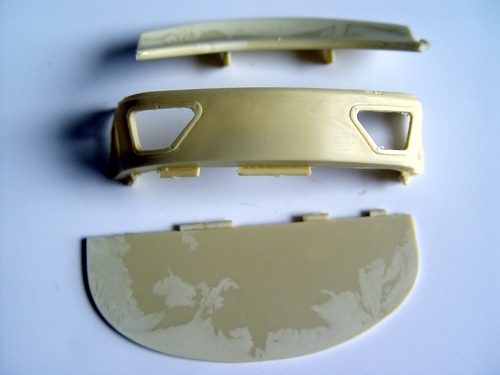 There are also Recaro seat, NACA duct for the hood, fire suppression system tank, few rivets, exhaust tips and pneumatic jack.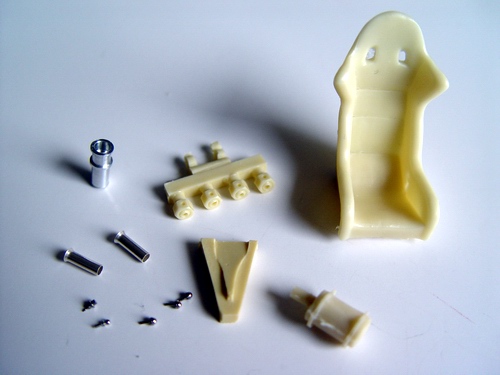 There are two photoetched frets and one clear sheet with laser printed templates for the hatch window, side slide windows, and instrument cluster. Brass photoetch sheet contains grille surrounds, tow hooks, spoiler fins, wiper, enlarged paddle shifters, and few rivets. Nickel colored fret is much thinner and has all the mesh pieces for all the openings, hatch braces, racing harness hardware, etc. Photoetched details are really nice.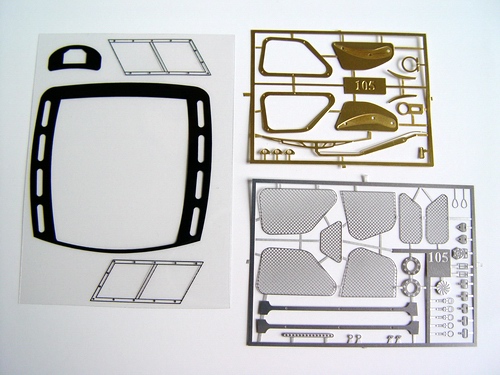 Instructions are written in French and English, and not very clear. There is also second sheet with pictures of the JMB Racing 360GT Modena car with racing decals Photoshop-ed. This transkit was not created to convert Tamiya kit into a specific car, but rather into a generic 360GT. It is a good starting base for the conversion, but will require some scratchbuilding and kitbashing to create accurate and complete 360GT replica. Recommended for experienced modelers.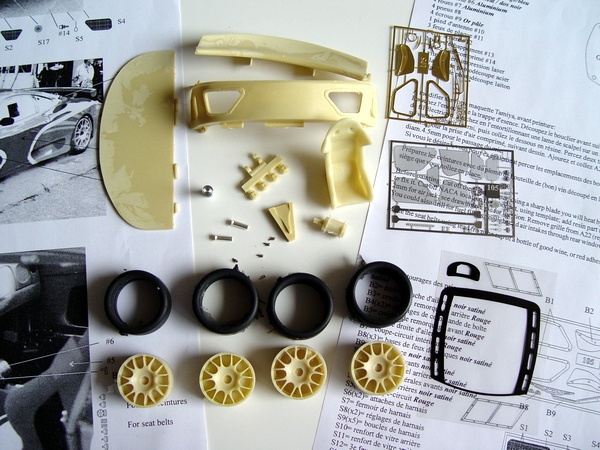 ---
Copyright 2004 Alex Kustov. No copying or reproduction in any shape or form without written permission of the author.