Scale Designs Ferrari 365GTB/4 Competizione (Daytona Competition)
Thanks to Tom Tanner of Scale Designs for making and providing the kit for this review
---
One of the most interesting Ferrari racers of 70's, Competition Daytona was realized in kit form only once before - by Italeri. Italeri kit is not 100% correct, but a very good start. Scale Designs too have several different curbside Daytona Competition kits now (different decal versions), and all are easy to build, yet they yield very realistic results. Today I will take a closer look at one of these kits - #SDF10.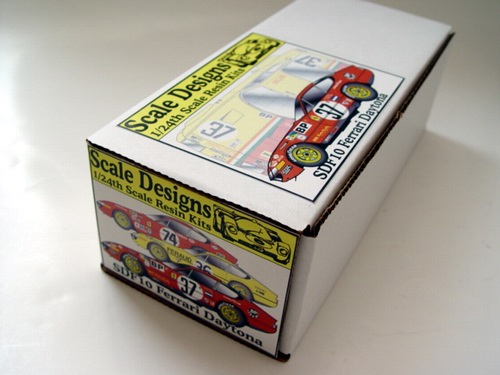 Kit comes in a sturdy box with attractive color stickers from sides and the top. Box filled with bubble wrap and peanuts to protect the contents.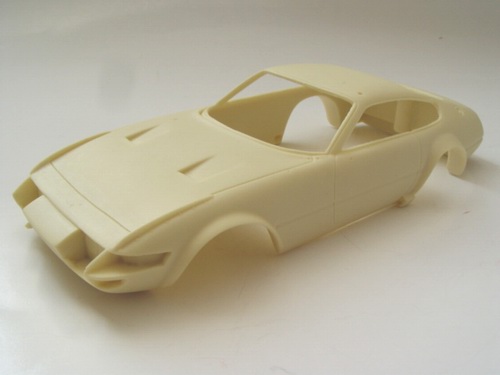 Body is one piece, made from yellowish resin. The surface is really smooth, but will require some sanding and filling here and there to correct minor scratches and some (very few) small bubbles.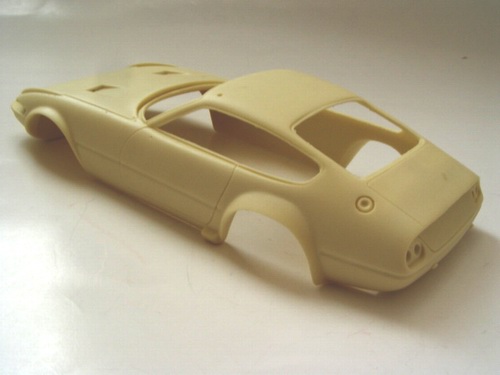 Body shell is somewhat thick, but has good proportions and looks correct. Details are all in the right place, and panel lines look sharp.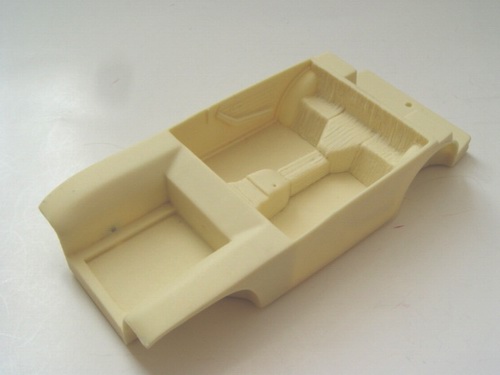 Interior tub (combined with the chassis) is one piece (there are no suspension of engine detail of any kind). Rear bulkhead has somewhat inconsistent upholstery or sorts molded in. Not sure what it is exactly, but looks like it will take some work to smooth out.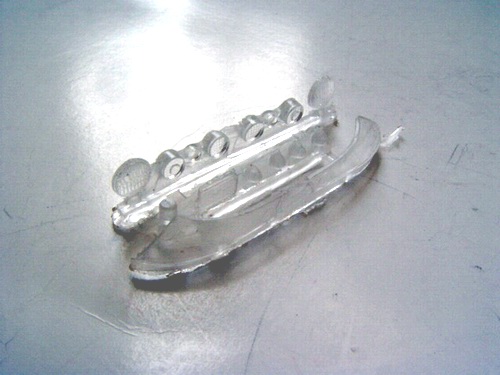 All lenses and clear parts molded on one sprue, most likely from clear epoxy. The quality of the molding is very good, although there are a lot of flash that will take some time to cleanup. All molds are quite thin.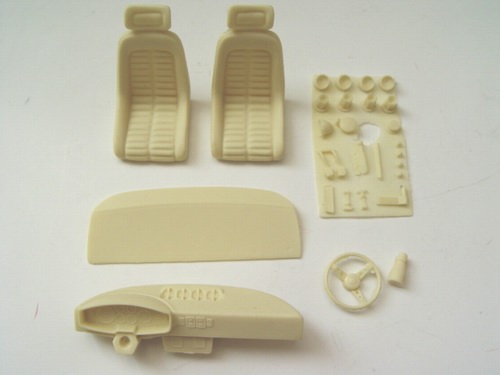 Interior components and few other small detail are also made from resin. Kit has very nice seats and good looking dashboard with sharply engraved details. Small pieces are molded as one piece and will require careful trimming. All parts are of very good quality.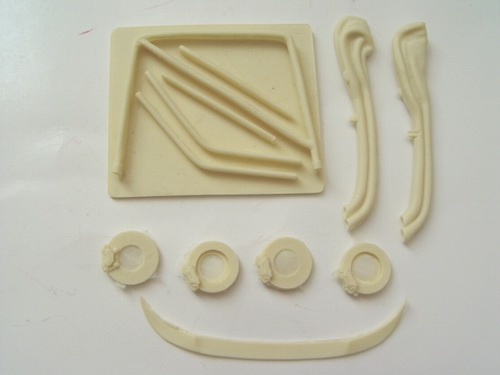 Same approach is used for the roll cage - all parts are molded together. Some of them might be substituted with styrene rods, I suppose, to simplify the assembly. Exhausts and disk brakes all have excellent shape and good details.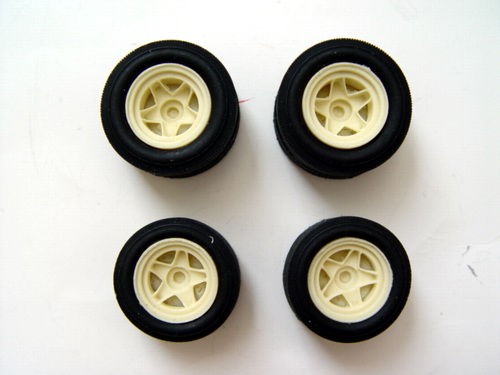 Wheels are very crisp, rears are slightly bigger and deeper than fronts. There are a little bit of flash on the wheels that will require some cleaning before painting. Tires are made from soft rubber and seem to be correct size. There are no sidewall markings on tires though, and a big mold mark runs in the middle of rear tires and somewhat ruins the thread.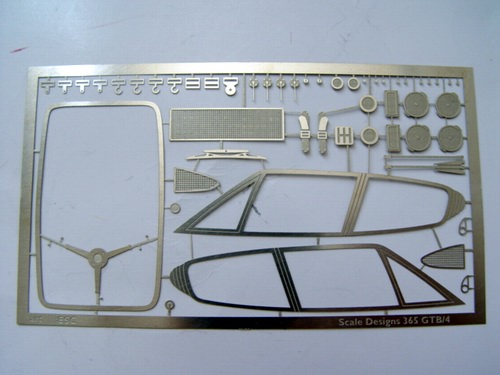 Photoetched fret is simple but nicely etched, with good engraving and good details. Window frames for all 4 windows are provided, as well as all mesh, wiper, lights, shifter gate, and racing harness hardware.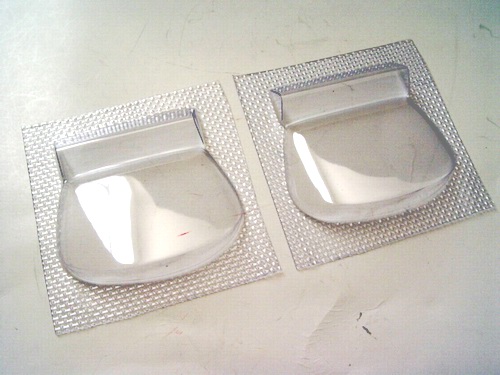 Vacuum formed windows/parts are clear and clean. My kit contains two sets (very thoughtful!), and each set has a windshield and headlight covers.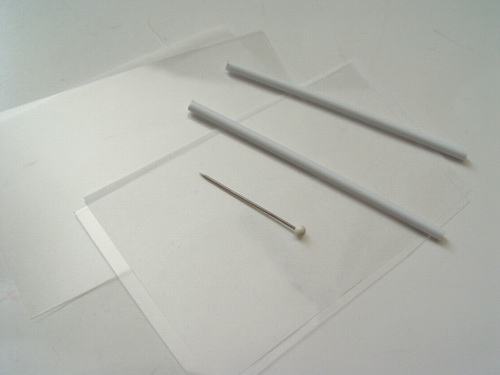 Clear acetate sheet is provided for the side and rear windows, as well as two plastic rods for axles, and a pin for the shifter.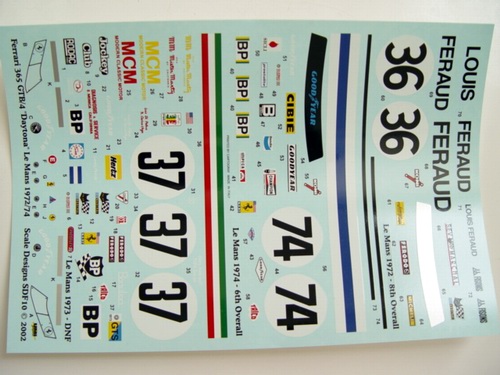 Decals are simply wonderful! They are crisp, completely opaque and nicely registered, with absolutely no carrier film around the images. They look very thin and glossy. Decals are printed by Cartograf in Italy, and they got to be some of the best-looking decals I've seen lately. The sheet also contains all the correct markings for three (!) versions of the cars competing in LeMans in 1972, 73, and 74.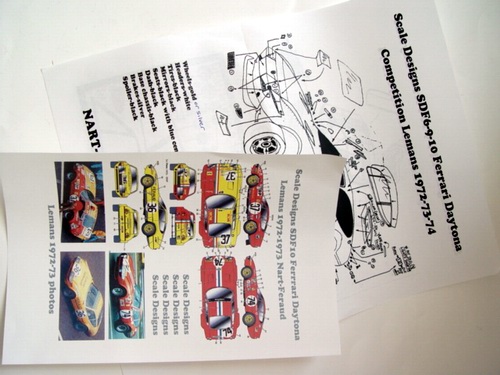 Finally there are a color decal placement guide and b&w instruction sheet. Decal guide is very useful, although somewhat small. Instruction sheet is not very good, hard to follow and poorly numbered. There is also a very basic color guide and some information about different cars.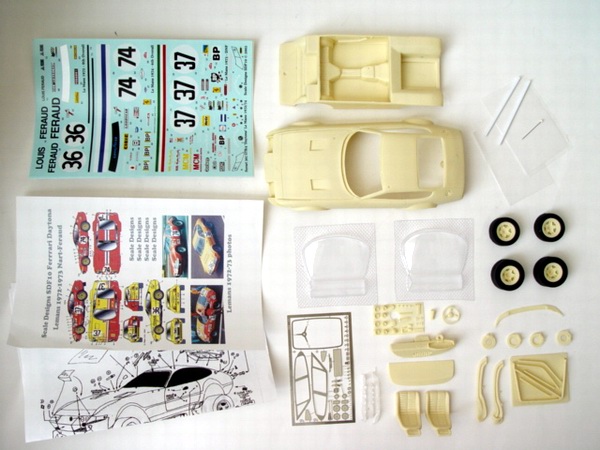 Overall, it is an excellent kit! I really like the fact that it is quite simple, but very high quality kit at the same time. It shouldn't take long to put one together, and even a beginner can tackle it. This makes it a good choice for the first resin kit, though high number of decals can be slightly intimidating for beginner. The kit is a very solid effort from Scale Designs, and I'm looking forward to building the kit, as well as SD's other Ferrari kit - David Piper's 250 LM.
---
Copyright 2004 Alex Kustov. No copying or reproduction in any shape or form without written permission of the author.