Scale Kraft 1963-64 Ferrari 250 GT Lusso
---
Lusso has always been one of my favorite Ferraris, and I was really excited when I heard the news about Scale Kraft making a 1/24 kit of the car. About a year ago, the kit finally saw the light. It is a curbside kit, but it is possible to either fit 250 chassis with SWB engine from the plastic kit and rebuild the interior, or just modify the existing chassis and install the engine.
The body (as well as the majority parts in the kit) is made from white and quite hard resin. Moldings are nice and smooth, with crisp details and correct (at least to my eye) shapes. Panel lines are a bit on the soft side. Window trim is molded with the body, and a looks very fragile. Window openings have quite a bit of flash.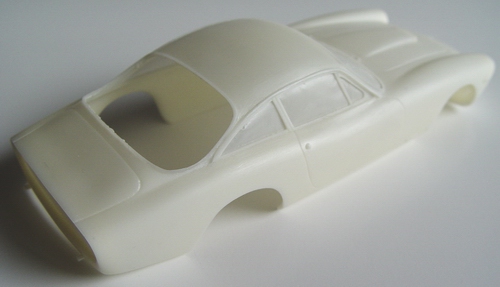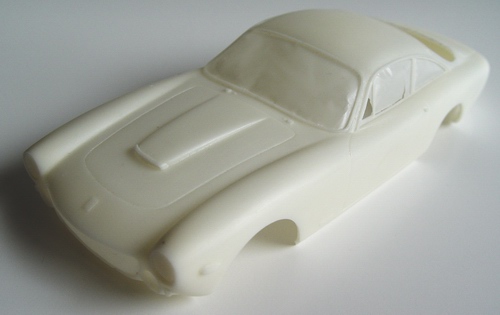 Insides of the body are also very smooth, and the body shell is very thin. Hood is molded shut, but it won't be very hard to cut it out. Body is straight, and it will be very easy to open all the vents and ducts on the body.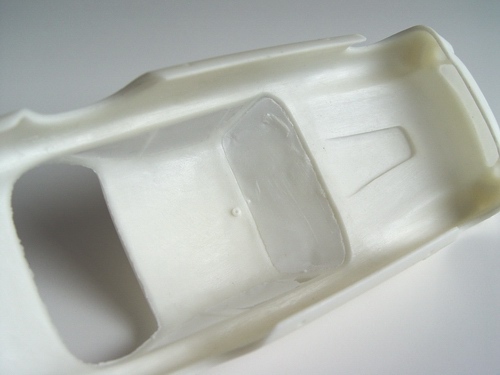 Chassis however, is a somewhat big and heavy piece of resin. Front part has molded in radiator, and inner fenders (you will probably have to remove them if you want to install the engine), but the floor is not too thick and could be easily cut open to fit the engine. There is also transmission tunnel with an ashtray and location hole for the shifter, and then nicely engraved trunk area.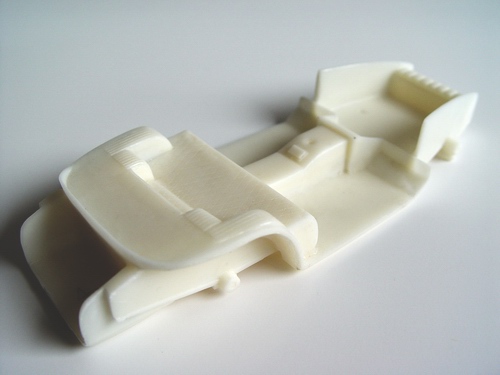 Suspension detail is rather sparse, but you still can see the gas tank, molded in leaf springs with drive shafts, and front A-arms. For some reason gas tank reminds me Small Wheels 1/24 Lusso kit part!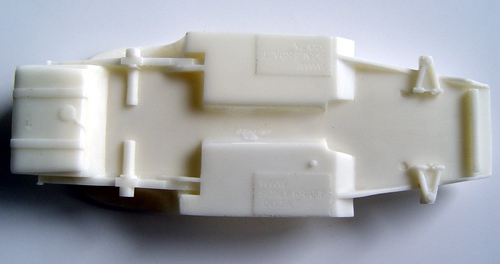 This is the worst part of the kit: wheel rims, knock-offs, spacers, hubs, and TIRES are molded in resin. The castings are not bad, but it will be impossible to achieve real metal look (only with Alclad II paints, though I also doubt that) for the rims, and fit the tires onto these rims without gaps. Aftermarket wheels seems like a good investment. Brake disks are also molded in resin and look very nice.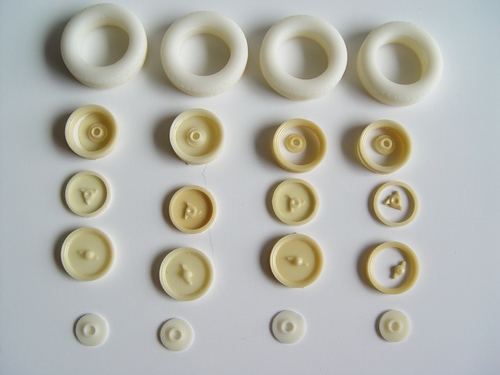 Wheel spokes are photoetched parts made from thin metal and look good. If only the rims were metal and tires were rubber!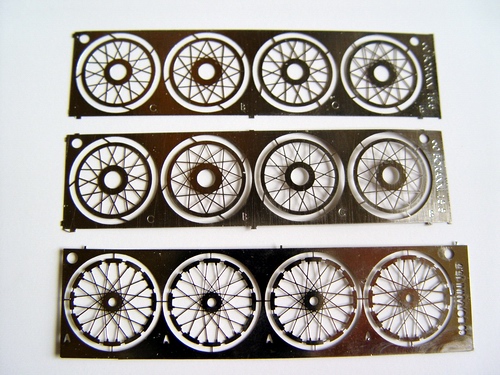 Another downside of the kit is the glass. It seems that Scale Kraft guys have no access to a good equipment (or technology) to make clear parts, and the glass is completely off. It has the curves though, so I suspect its possible to cut correctly shaped windows from this piece.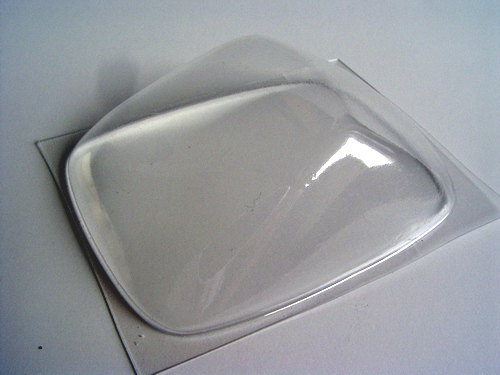 Interior parts look great. The seats are one of the best I've seen, and very true to the original. Dashboard has good detail, as well as door panels. Steering wheel seem to be cast after some photoetched variety. There are also steering column, hand brake, shifter with the boot, and a rearview mirror.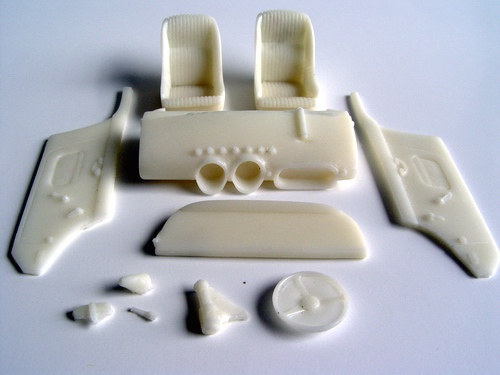 Exhaust pieces will need some cleanup, but otherwise are very nice. There is also a piece of solder, piece of aluminum tubing, and great looking exhaust tips. Finally there are separate parts for gearbox and engine undersides, driveshaft, and differential.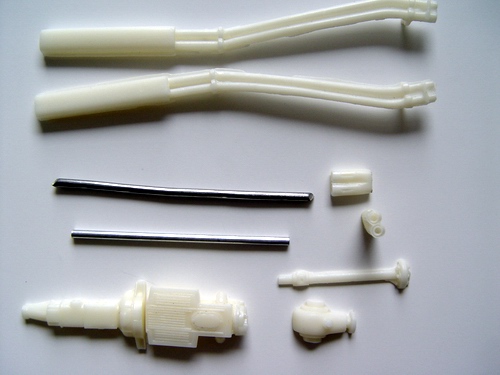 Here you can see a few exterior parts, bumpers, lights, grille housing. All nicely cast, but will need some flash cleanup. Bumpers should be painted with Alclad II Chrome.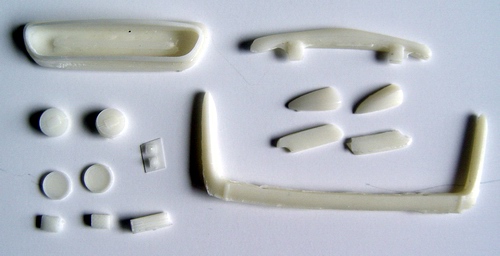 Finally, there are photoetched parts and decals. Main photoetched fret contains badges and emblems, wipers, grille, and headlight and fog light faces. Its made from soft and thin metal, so it will pose no problems with part removal.
Second fret contains seat hardware - belts, buckles, and seat mounts. Made from brass.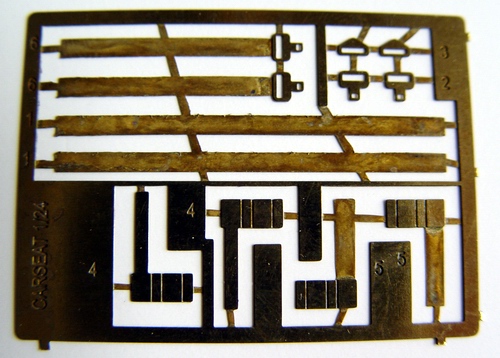 Decals are not very good. Silver surrounds for the gauges are printed (most likely on ALPS printer) on a separate sheet, and the rest is on regular decal paper. It will be hard to put the two together. Funniest part is light covers - they are eyes for the stuffed animals! Instructions tell you to cut off the back, and remove the "eye" and use clear part as a lens.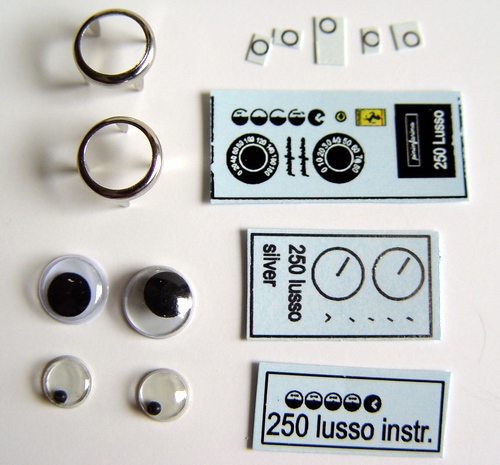 Overall, it is not a bad kit, but it will require a LOT of work to make correct and good looking model. Still, better this than nothing - the only other 1/24 Lusso kit is long out-of-production Small Wheels (Western Models) white metal kit, and it is also far from perfect, aside from being outrageously expensive today, and almost impossible to find. Kit is a good "base" for building a superdetailed model, recommended for die-hard Ferrari Lusso fans, and modelers familiar with scratchbuilding and kitbashing.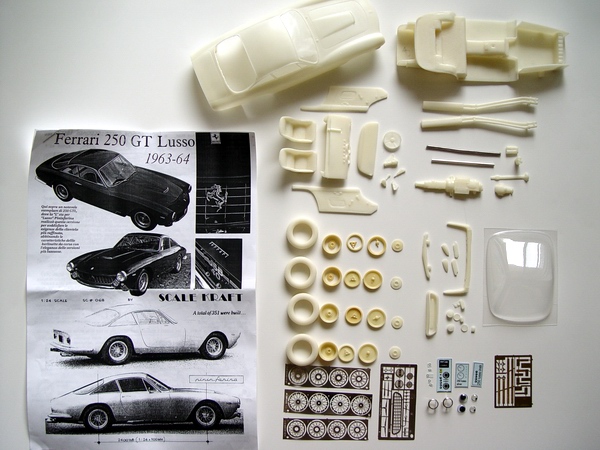 ---
Copyright 2004 Alex Kustov. No copying or reproduction in any shape or form without written permission of the author.