Scale Productions Ferrari 550 GTS
---
Long awaited 550 GTS kit from Scale Productions is here. Is it good? Is it bad? It really depends on your expectations! Its a full curbside kit, with most of the parts made from nice yellowish resin, some white metal, turned parts, some mesh, photoetch, rubber tires and decals. True multimedia kit.
Packaging does not really impress, its basic cardboard box with black and white sticker on the side. Box is relatively small, and packed tight so there is not a lot of protection to the box contents. Thankfully, mine arrived safe and sound from Islandcollectibles.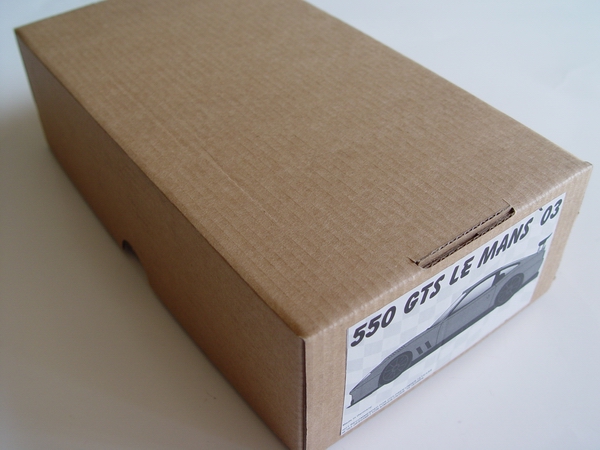 What is inside the box, however, is of very good quality! Kit instructions are really nice, with color decal placement guide, and even few color pictures of the real car. Assembly instructions have photographic parts list, and few photos/drawings for assembly sequences.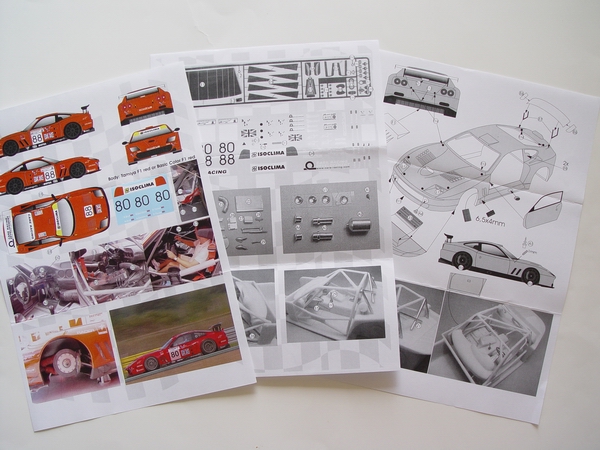 Decals look great. They seem to be very nicely registered, free of any flaws, and look very thin. Colors are bright, and all correct markings seem to be included in the decal list.

Kit includes some fine metal mesh for radiator intake and brake ducts, and a piece of adhesive red paper, pre-cut to make a racing harness. Photoetched parts tree is made from somewhat thick sheet, but all parts look good, with detailed engraving and nice semi-gloss surface. There is also a small decal sheet with tire markings.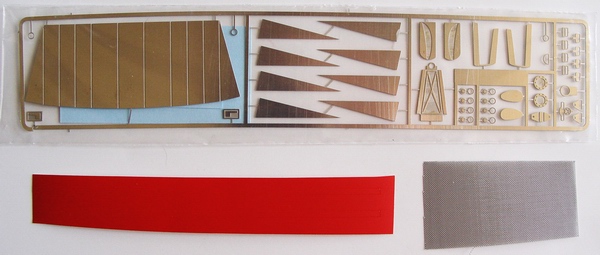 Here is a close-up of the part of photoetched tree that shows the surface detail of the parts.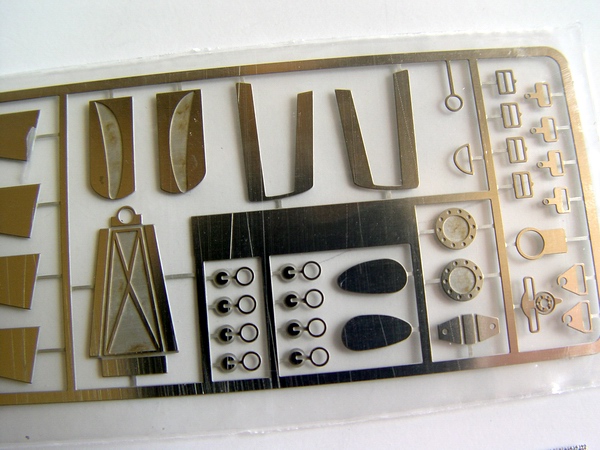 Body is molded in resin and look mostly correct. Detail seem to be a little on the soft side, and panel lines are somewhat light. Few shapes seem to be a little too rounded, but overall, body leaves a good impression.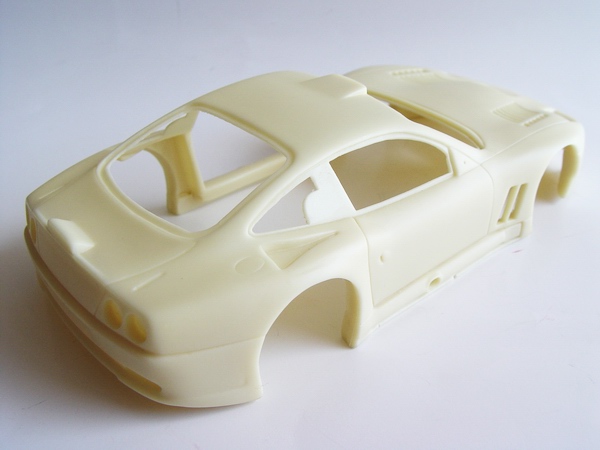 Driver's side door is cut out and supplied as a separate resin part. Door is slightly bigger than the opening, and don't fit, but it won't be very hard to fix. Kick-panel on the body is way too rounded, and there is a slight gap between the panel and the door at the bottom. Could be fixed probably with some sheet styrene.
Chassis is a simplified part, with separate rear bulkhead. Moldings are clean and crisp, and parts have a good fit. There are no suspension or engine detail.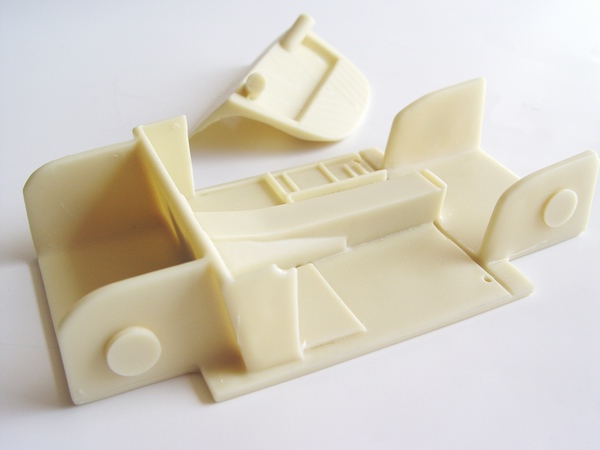 Another interesting approach is to mold entire roll cage as a one piece in resin. It looks great, and actually have a great fit (compared to a terrible fit in Craft S 550 kit). There are few flaws here and there, but the fact that it requires no assembly really simplifies things.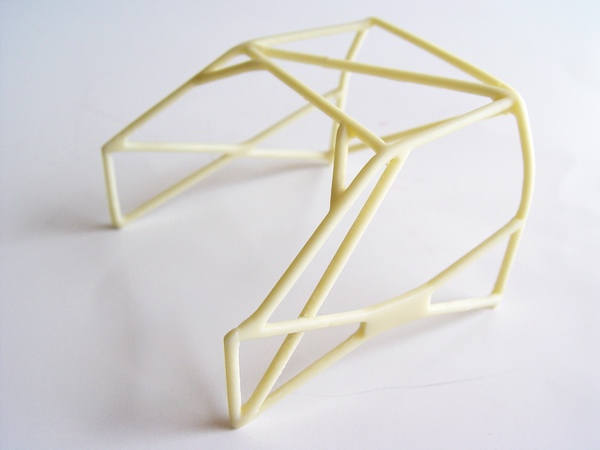 Chassis and body fit is almost perfect. On the picture below you can see chassis with rear bulkhead and a roll cage inserted into the body - everything fits very nicely, with no gaps or other problems.
Very thin racing seat, and central tunnel with finely detailed toggle switches, etc are also molded in resin, as well as dashboard, front splitter, rear spoiler, and a door with inner door panel. All moldings are really clean and fit great.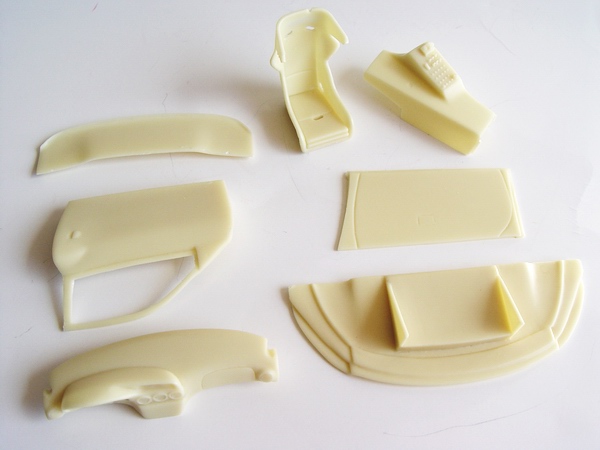 Another great thing about this kit is that Scale Productions provides actually two sets of already pre-printed and pre-cut (very precise) glass parts (maybe just my kit?). I know how easy it is to mess up windows, so it is really very thoughtful of them.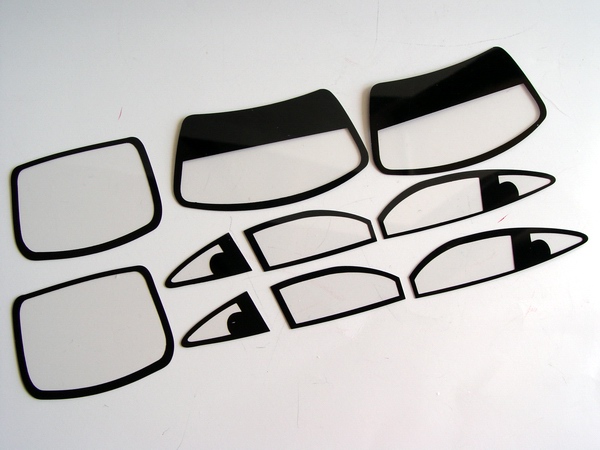 Rear lenses are molded from clear epoxy and appear to be copies of Tamiya's 360 Modena taillights. There is also a great set of very nice lenses for headlights, as well as few turned parts (including fire suppression system tank) and few interior resin parts. Headlight covers provided as a vacuformed parts.
Wheels are also made from resin, with relatively clean inserts, metal axles, and good looking soft rubber tires.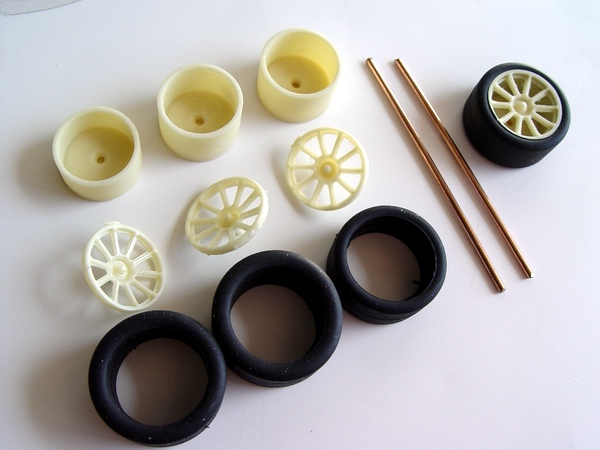 Finally, there are few white metal parts for the radiator, battery, brake disks, mirrors, parts of the roll cage and some electronics. The moldings are not very clean, but good enough. It helps that there are not a lot of metal parts in the kit.
With some additional detailing I think this kit could be built into a very impressive replica of the Ferrari's 2003 LeMans entry. I wish the kit included the engine, or at least some door hinges, but I think its worth the money. Don't know if there will be any issues with it during the buildup, but will find out soon! If you are looking to get a 550, this kit is one of the nicest out there.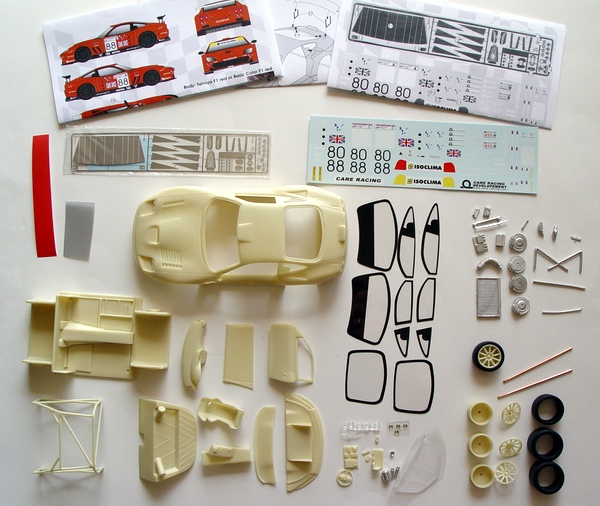 ---
Copyright 2004 Alex Kustov. No copying or reproduction in any shape or form without written permission of the author.