F e r r a r i 250 GTO Competition, Tourist Trophy, Goodwood 1963, Graham Hill. Finished 1st.
---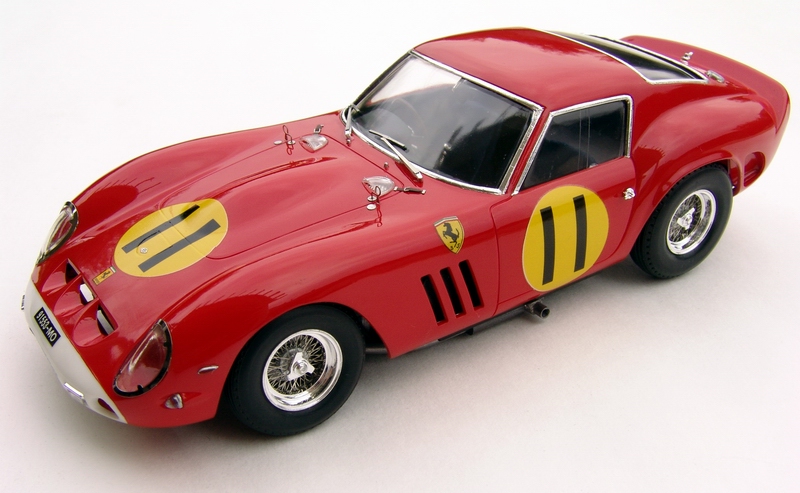 ---
See Also: Gunze Sangyo 1/24 Ferrari 250 GTO Road Car

Click on the picture to enter full buildup and gallery.

See Also: Gunze Sangyo 1/24 Ferrari 250 GTO

Click on the picture to enter full buildup and gallery.
---
Kit: Gunze Sangyo Ferrari 250 GTO Competition, kit # G227

Pros: Great detail and relatively high parts count. Very good body proportions (save for the rear wheel arches), great photoetched parts, nice wire wheels. Accurate decals. Metal parts give a solid feel to completed model.

Cons: Glass is too thick, incorrect tires, some fit problems. Quality of metal castings is quite low, and takes a while to clean them. Instruction sheet gives only basic color guide, assembly directions a not clear and misguiding. Decals are cracked (old) and very thick.

Verdict: This is simplified version of Gunze's Hi-Tech GTO kit, which has everything except beautiful white metal engine. If you can live without the engine - this kit offers a lot of detail for the fraction of the cost. It builds into excellent shelf model of great GTO. I have built mine as a serial number 4399GT (1963), winner of the 63' Tourist Trophy in Goodwood.
Model Details
---
| | | | |
| --- | --- | --- | --- |
| | Model features intricate windshield wipers, tiny hood straps and catches together with their metal bases. Every single mesh on the real car is replicated as a P/E part on this model. All those delicate pieces really enhance the realism of the kit. | | As you can see from this picture, the kit is very much curbside, and has the same layout as their full detail kit, but you get only lower part of the engine. Hood molded shut, of course. However, there is a full suspension with great brake details included in the kit. |
| | Taillights on this GTO are the best. Engraving is very sharp, and it is so easy to paint, or apply BMF to them. I painted mine without any problems. License plate is a painted P/E part. | | Rear suspension is also identical to their full detail version, and features very nice white metal leaf springs, shocks, and brakes. Gas tank is a separate plastic part. |
| | Window trim was detailed with BMF and black wash was applied to further accent it. Applying BMF is relatively easy task on this kit, since all windows have very simple shape. | | On this picture you can see three extraction slots, and exhausts coming from the sides. Number 11 identifies this GTO as Graham Hill's car during the season of 1963. |
| | Photoetched headlight surrounds really add to the looks of the model. Tiny P/E Cavallino was added to the black-washed grille. The front end looks great (even though not entirely correct - should be light blue!) | | The wire wheels are quite nice - each assembled from several P/E and plastic parts. Tires are a disappointment however (just like on any other Hi-Tech kit) - they are incorrect and need to be replaced with correct Dunlops. I left mine as is cause I couldn't find correct Dunlop tires of proper size. |
---
Copyright 2003, 2007 Alex Kustov. No copying or reproduction in any shape or form without written permission of the author.