Hiro Model Factory/Studio 27 1/24 Ferrari 250 59/60TR (LeMans 1959-60 Livery)
---
Hiro did it again! Using their previous TR kit as a base, master modelers at Hiro Model Factory created another breathtaking kit of another very significant Ferrari in racing and LeMans history - 59/60TR. In my opinion, this Testarossa is one of the most beautiful TR's ever created by the factory, and finally its available as a full detail kit (Renaissance has curbside model). Price is a huge downside again - 25000 YEN (around $200).
The kit box is typical high-quality cardboard box, with model version indicated on one of the sides. As usual, Hiro will produce three similar versions, which differ only by decals included. This version is for 59/60 LeMas entries. Kit is protected inside with some foam, and all parts sealed in the plastic box. Body is sealed in a bubble wrap bag and photoetched parts and decals sealed in plastic bags.
Body and interior castings are very clean and crisp. Interior fits inside the body very nicely. Both pieces are molded in gray resin.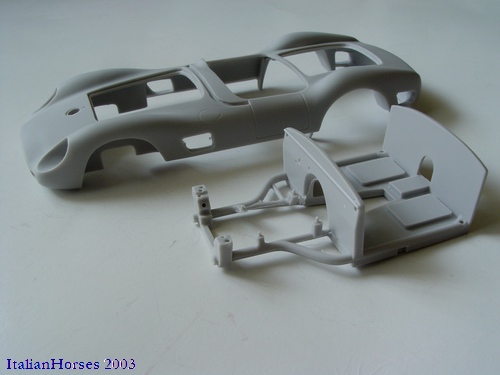 Surface of the body is very smooth, and body is very delicate and thin. As you come to expect from Hiro, castings are very smooth from the inside too.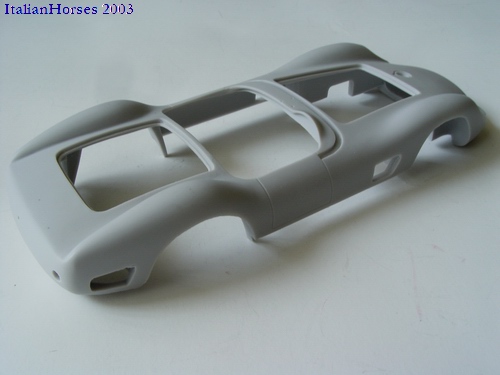 Decals are very thin and printed with little clear film at the edges. All correct marking for four (!) versions of the car included.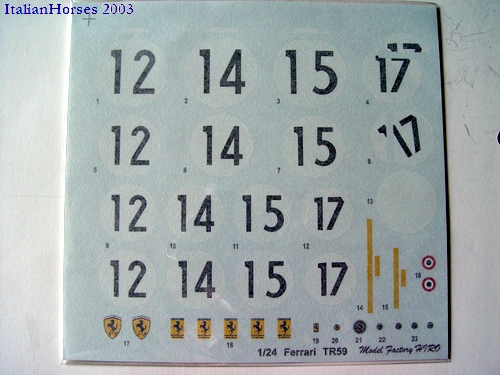 Main photoetched fret - includes all the grilles, rivets, plates, buckles, handles, wipers, pedals, etc. Also included is a dashboard face and many more tiny details. All parts are crisp and nicely engraved. Although the metal is relatively thin, the depth of engraving is absolutely perfect. Attachment points are very thin, and soft metal sands very easily - there will be no problem removing the tabs.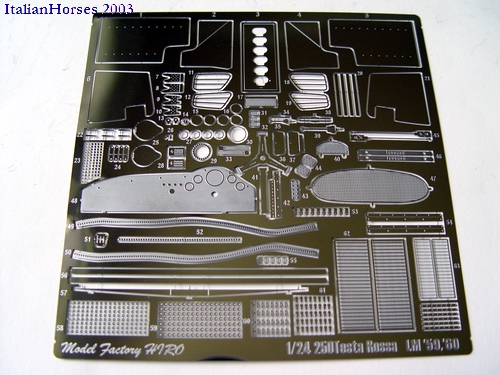 Two windshields provided again, as in previous TR kit, but only one set of headlight covers. There is also a clear hood scoop and a sheet of clear plastic to the side windows included.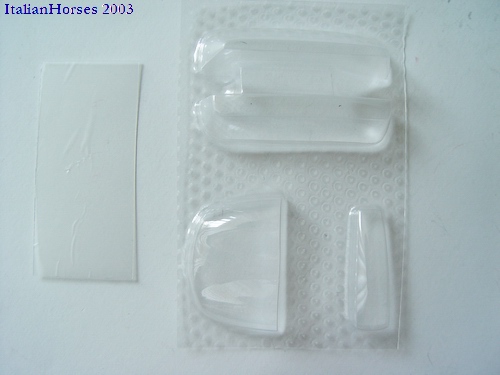 Photoetched frets for wire wheels. As usual, each wheels constructed from 6 PE parts, 3 rim sections, turned aluminum hub, knock off and a tire. I believe wheels and tires are identical to the set found in 58TR.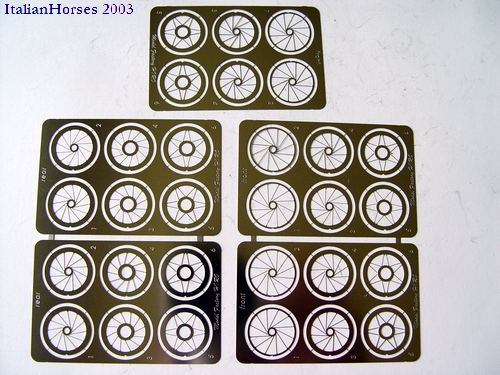 Five wheels are included (one spare that goes in the trunk). Tires molded in very soft rubber, with correct thread pattern and sidewall details. Tire moldings have absolutely no flash, and sit very tight on the rims. Rear tires are slightly bigger than front ones.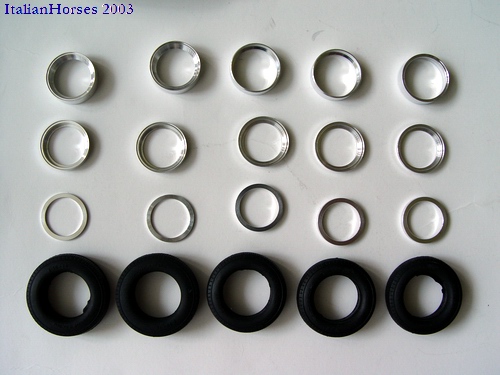 This kit is packaged better than 58TR, with nice shifter, absolutely gorgeous brake rotors (already scratched), wheel hubs, carburetor bellmouths, headlights, exhaust tips, and other parts are individually packed in plastic. All parts are turned in steel, some plated, some not, but the quality of each single part is absolutely top-notch!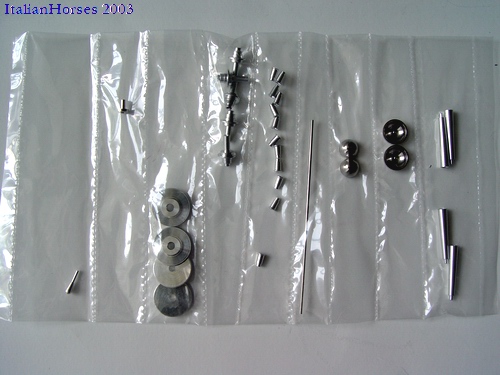 As usual you get a set of delicate headlight covers with tiny rivets, coilover springs, pre-colored tailights, set of screws, some spark plug wire, and a self-adhesive pre-cut set of hood and trunk lid straps.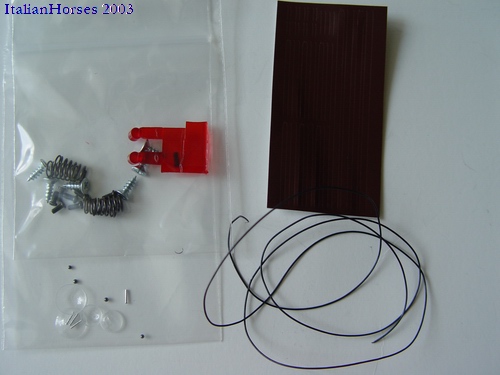 The rest of the kit is white metal. Complicated Ferrari interior frame and roll cage recreated to the smallest detail.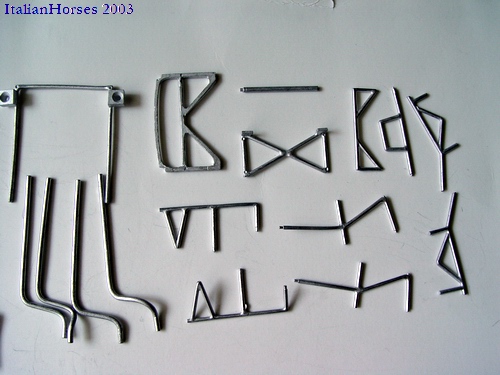 Here you can see parts of the body (trunk lid, hood) and chassis, as well as some interior parts. All parts will require minor cleanup and sanding, but these are one of the nicest white metal castings ever.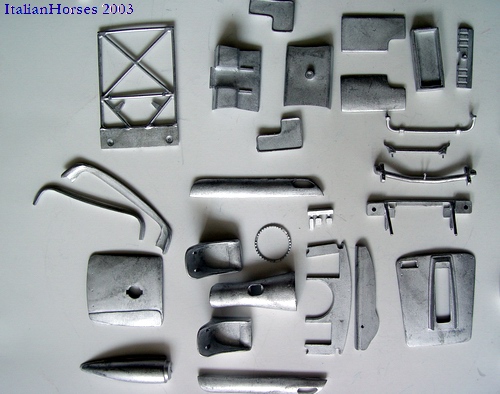 Hiro spared no expense in recreating Ferrari's suspension either. Detailed A-arms with all necessary linkages, working shock absorbers, knock offs, and even separate brake calipers for the rotors!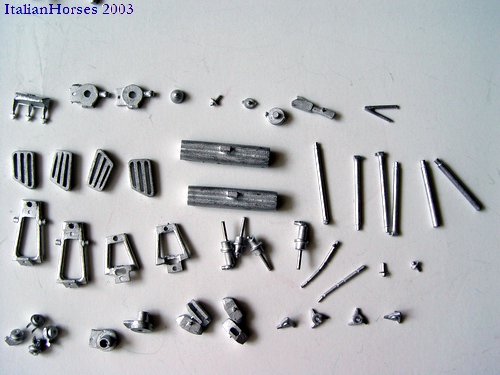 Engine is almost identical copy of the 58TR unit, with necessary changes made to update it to the 59 version. Once again, this is one of the most accurate representations of the legendary Ferrari 3-liter V12. All parts are nicely cast, but will require minor cleanup and adjustment during assembly.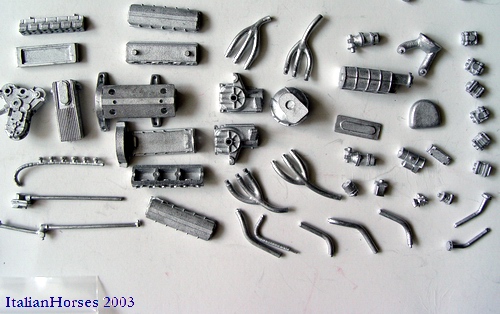 One more time, with about 400 parts in this kit, Hiro Model Factory created most advanced kit of 59/60TR in 1/24 scale. Its execution is breathtaking, and quality of molds and castings is very high. Preliminary fit is excellent, and I'm sure it will build into a great looking replica without any serious problems.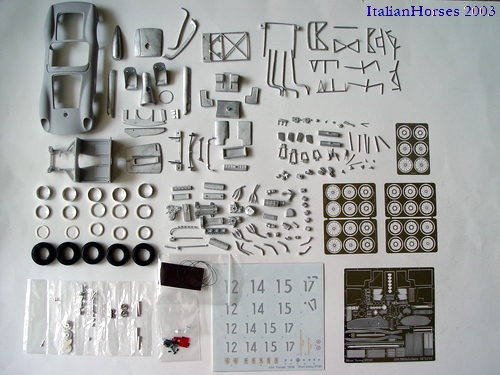 ---
Copyright 2003 Alex Kustov. No copying or reproduction in any shape or form without written permission of the author.